Guitar Curriculum for the Next Generation
Our guitar curriculum is specifically designed to help get people with zero experience on the instrument all the way up to a point where they can not only accompany a popular song but during it, also improvise an instrumental break without breaking the rhythm.

At a minimum, the ability to do this requires students to be proficient with about 16 common guitar chords, a couple of major scales and basic knowledge of how to use a capo.

However, these skills come to life with a rock solid, perfectly-timed strum, knowledge of how to transpose song chords and even just a rudimentary competency of how to read music.

The guitar curriculum consists of six books whose contents can be taught to children and beginner adults alike and is organized in the specific, non-traditional way that guitar players have used to learn the instrument since the dawn of the rock 'n' roll age.

So, it starts simply with pulling the guitar out of its case and learning three chords and how to sing a song with a basic strum. Then there's more chords and a deep dive in how to build a professional-style strum.

From there, students get their first taste of music theory by learning the ultra-powerful skill of how to transpose song chords from one key to another.

Essentially, at this point, if the student stopped studying further and just focused on getting good at switching chords, strumming and transposing, they would have all the tools necessary to become an excellent rhythm guitar player, which, in the real-world landscape of guitar playing, is a perfectly suitable level of proficiency.

Consider that some of the best guitar players in the world, such as Paul McCartney, Eric Clapton and Jimi Hendrix never knew how to read music, and many more players would tune out as soon as you said the word, "triad."

However, just because guitar players can become pretty good without leveraging more advanced music principles, that doesn't diminish the overarching value of those concepts. Plus, the fact is that any guitar curriculum has to meet certain music standards, especially if they're to be taught in schools.

So, after going through all the criteria that's required to become a solid rhythm guitar player by modern standards, our curriculum teaches students how to read music from a lead sheet. From there, the student learns a couple of scales and how to mix melody notes that come from it into a strum, which helps create the illusion that you're strumming and soloing at the same time.

At this point the guitar curriculum has essentially showed how a student can play solo guitar for popular music songs. This, of course, is different from other guitar curriculums that typically take students on a track to play solo guitar for either classical music or jazz.

The value of this popular music track is that it not only can take a student on an academic journey with music, it can also help them participate in real-world music situations at every stage of the learning process.

At the end of the day, our guitar curriculum provides the starting point for beginners and a jumping point for students who want to take their playing to the next level.
Books Included in Our Guitar Curriculum
Here are all six books in our guitar curriculum:
As a bonus, you might even consider adding a seventh book to the curriculum, 5 High-Impact Singing Tips, simply because singing and guitar playing often go hand in hand.
Article continues past the image.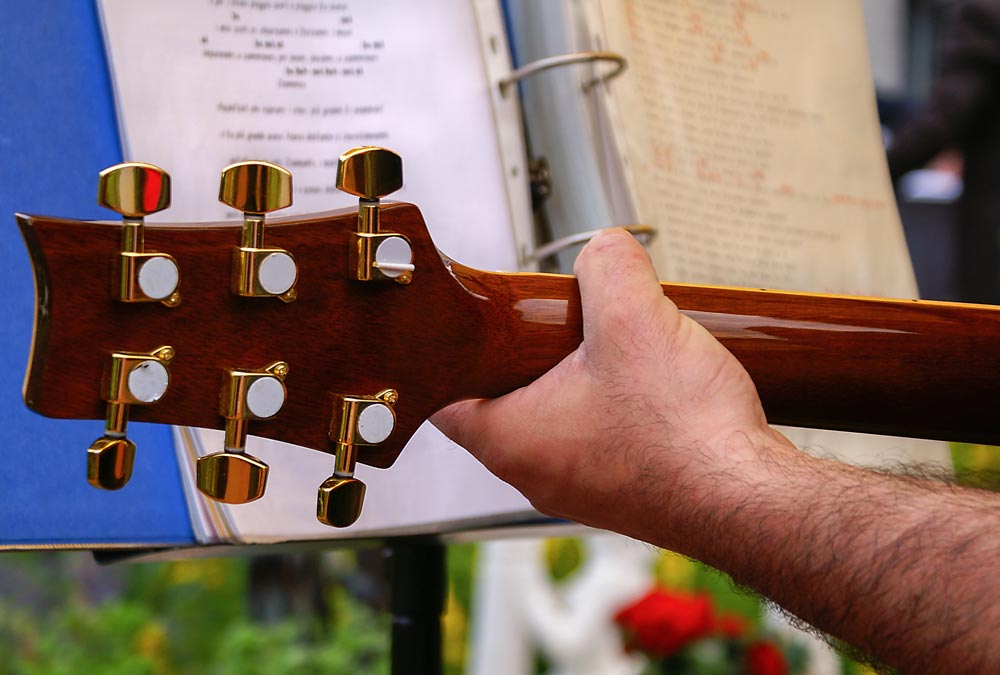 Here are some details about each book.
Book 1: The First 5 Steps of Playing Guitar
In the first book of our guitar curriculum, students learn what to do on day 1 of guitar playing. The only assumption it makes is that a student knows zero about playing guitar.

It shows a student first, how to read a chord chart and then, gives them three chords to start learning. From there, students learn to navigate a song chart with lyrics and chords — not sheet music — as well as a method of strumming that allows beginners to sing and play at the same time on day 1.

Finally, it includes a detailed practice plan and next steps. For context, the contents of this book is all the stuff we teach a student in their very first 30-minute guitar lesson.
Book 2: The 16 Most Important Guitar Chords
The second book of the guitar curriculum features the 16 guitar chords that every player has to know like the back of their hands. These are the chords that are used most often in songs, and the book includes a practical plan for learning them. It also includes tips for getting past the F chord, which is the hardest chords for beginners to gain traction with.

As a bonus, this book also has a section that explains how to handle diminished chords on the guitar, an oft-overlooked concept that is fairly straightforward. Diminished chords, of course, come up just often enough in modern popular music, and there's no reason why a student should have to avoid a song that contains one.
Book 3: Strum Like a Pro
In general, there are certain parts of this method that really separates this guitar curriculum from others, and the way strumming is taught in book 3 definitely qualifies. This book details everything you'd ever want to know about how to gain a professional strum and aims to make you rethink the canned strum patterns that are taught all over the internet.

Basically, in every song, there are built in strum patterns that you can dial into, and this book unlocks the secret of how to find them.
Book 4: How to Use a Guitar Capo
While having the ability to strum 16 chords well is the central skill of playing rhythm guitar, all on its own, it's inherently limiting, as for any song you want to play, you're always tied to the chords you're given.

The thing is though, sometimes, for a variety of reasons, you either need or want to use different chords. That's where the guitar capo comes into play, and when you couple it with knowledge of how to transpose chords, you can use the 16 essential chords to play in any key you ever need to play in.

This book assumes that a student knows nothing about music theory and teaches them what the chromatic scale is and how to use it to place the capo on the guitar. It also shows how keys and chords work from a music standpoint and explores the relationships between them.

From there, it shows how to change song chords from one key to another using accessible, straightforward instructions. It even contains a chart that tells you exactly where to put your capo and what chords to play for any key you want to play in, which is useful as a general reference guide.
Book 5: Reading Music from a Lead Sheet
The truth is, one doesn't have to know how to read music to become a functioning and even successful guitar player, but that doesn't change the fact that those who do read music have an inherent advantage over those who don't.

This book looks at reading music through the lens of a lead sheet, which is the type of sheet music that is most practical for most guitar players. It is an extensive study of the most common sheet music scenarios and dives deep into how notes are counted and how songs are arranged.

As a byproduct of looking at how to read music notation, this book also contains detailed information about how scales work and even shows how to handle some of the more complex music concepts, such as theoretical notes.

All in all, it's one of the most comprehensive guides on how to read music notation available on the market.
Book 6: Solo Guitar for Popular Music Songs
The last book of our guitar curriculum is focused on learning how to play chord melody on the low strings. Low string guitar chord melody has its roots in country music, where Carter Family guitar player and singer Maybelle Carter used the bass strings to play melodies while she strummed chords during instrumental breaks.

Carter's innovation of style, which became known as the Carter Scratch and heavily influenced such styles as flatpicking and Travis picking is the perfect solution for a solo guitar player that wants to keep a song's rhythm going while also playing a guitar solo.

This book studies how to leverage the basic 16 chords and modify them to accommodate melody notes — and provides the formula for how to mix in single notes while strumming.
Bonus Book: 5 High-Impact Singing Tips
Though singing is not officially a guitar skill, having a certain amount of vocal competency brings a kind of completeness to any musician's toolbox.

This book teaches people how to leverage the voice they use everyday — to talk, yell, scream or even cry — and use it to sing songs. At its core, the book is about teaching someone to have confidence in their own unique voice and talks about how to breathe, how to modify words to sing in correct pitch and how to make every lyrical syllable count.
The General Ideology Behind This Guitar Curriculum
In general, this guitar curriculum aims to provide a concrete end goal for the general, everyday guitar player. Naturally, the guitar is an instrument that can take a lifetime to master, but it doesn't have to take a lifetime to simply enjoy playing complete song arrangements with rich instrumental breaks when it's just you and your guitar.

The fact is, most guitar players in this day and age don't know how to solo without a second instrumentalist present, and that leaves them limited in what they can do when they're all by themselves.

The thing is, though, there also hasn't been much in the way of a linear path that shows a beginner guitar player all the steps from how to play your first chord to how to work in melody notes along with that same chord for a solo, either. That's what this set of books looks to provide.

Now, at the end of the day, this guitar curriculum is simply a set of instructions, and it takes a committed player to get all the way through it. Committed, of course, means willing to practice.

Practice is a tricky subject when it comes to music students. Officially, our outlook on practice is that every student should eventually practice 30 minutes a day in perpetuity. Days will be missed, of course, but as a general rule, 30 minutes a day will garner steady progress.

Something to note here is that most beginners should work up to 30 minutes a day rather than go for it from the start. A half hour is a long time, and it's simply too much to ask of yourself when you're not used to playing. At the beginning, consistency is more important than time spent anyway, so students should avoid the trap of missing days and then trying to make up for it on other days.

Start with something you know you can commit to everyday and do it every single day. If that's just two minutes, then that's fine. In a week or so, bump it up to three minutes and so on. If you stuck with it, at 30, you'll have trained yourself to do be able to handle the commitment that guitar — or any instrument — requires.

Ultimately, though, the people who will really succeed with guitar and will take a guitar curriculum like this to the next level are the ones who simply fall in love with the instrument. They're the ones who don't need to time their practices because they simply can't put the guitar down.

When it comes down to it, this guitar curriculum is for them.