My Favorite Guitar Stores Near Minneapolis and St. Paul
One of the most common things people ask me when they are researching places to take guitar lessons is if I can recommend somewhere to buy a guitar around the Twin Cities.

It seems like an innocent enough question, yet I always find myself spending at least 15 minutes writing an email giving people enough choices to cover a range of the common factors that come into play when someone is ready to purchase a guitar, and cost is only the starting place.

The good thing is that the Minneapolis, St. Paul and the surrounding suburbs have a lot of great music stores, and whether you are looking to keep costs low, support a small business or connect with a network of musicians, chances are one of them can meet your needs.

Also, most shops give guitar lessons, as well as other types of music lessons, too.

Personally, I go to many guitar shops around town for a variety of reasons — sometimes just to check out what's new. Here's a few of my favorite stores.
Blackbird Music (South Minneapolis)
Blackbird Music is hands down my favorite music store in the area, not because it has the largest selection of guitars or other instruments, but because no other store has the combination of excellent service, community and expertise.

The owners are impressively in tune with helping people find what they need, even if they have to send you somewhere else to get it. Plus, whatever they don't have on site, they can always order it.

While most stores offer that service, I feel like I can trust the people at Blackbird to know what I'm looking for when I'm buying products I'm not familiar with, which stems from the fact that they are great musicians who still play great music.

Last but not least, they offer some great jam sessions that lean on the bluegrass and folk side of music, and even if that isn't your favorite style of music, it's a lot of fun to just hang out, share stories, and play with other people, which might even be a better way to learn than taking guitar lessons.
Article continues past the image.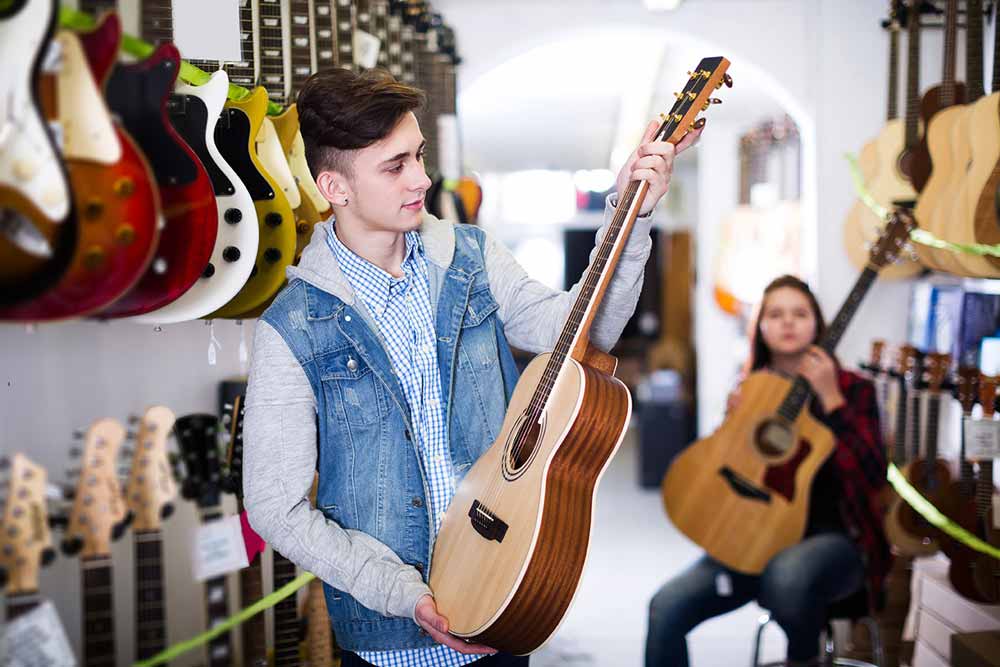 Guitar Center (Bloomington)
It may seem odd to juxtapose a very local music store with a very commercial one, but the fact is that Guitar Center is still on every musician's radar because of its extensive selection and low prices.

It's no secret that to support local, you probably have to pay a little extra, mostly because there's no way local stores can compete with the volume pricing the big chains can offer. Plus, with volume, you get better availability, and sometimes, I want something today — not in two weeks.

Guitar Center is also a valuable resource for beginners who are choosing their first instruments for guitar lessons. No other place in the area has such a wide selection of entry-level instruments at cheaper prices.

For intermediate and advanced players, the array of amplifiers, pedals, stage equipment and other accessories is unbeatable. Even if you choose to buy what you're looking for somewhere else, you can probably try it out first at Guitar Center and also check out all of its competitor products.
Willie's American Guitars (St. Paul)
Willie's American Guitars is an institution among Twin Cities guitar players, and with the closing of The Podium in South Minneapolis, no other place in the area can compete with its impressive selection of high-quality used guitars, ukuleles and mandolins.

I tend to buy used if I am buying "forever" instruments, and Willie's is always my first and sometimes only stop on that journey. The customer service is excellent, and the staff always seems to be really excited about each instrument in its inventory. Plus, pricing is fair, which can often be an issue when buying anything labelled "vintage."
Are You Shopping Around for a New Guitar?
Whether you are searching for your first instrument for guitar lessons or just like to try out what's new at the shop, there are many great music stores in the Minneapolis and St. Paul area.

While many stores in the Twin Cities also offer guitar lessons at an affordable price, taking them through The Approachable Music Project typically gets students further faster, and our flexible scheduling allows people to work at their own pace without worrying if they are practicing enough to make their investment worth it.

Please contact us if you are interested in learning or getting better at guitar.