3 Tips to Better Guitar Solos Without Learning Anything New
Many guitar players search high and low for the holy grail of six-string knowledge: the secret to playing awesome solos.

When guitarists first learn to seriously play lead guitar, the first thing they typically learn is the pentatonic scale, which is a powerful, movable and versatile tool that when played correctly, sounds solid in virtually any solo.

While aspiring lead guitarists really should take the time to learn all five patterns of the pentatonic scale, even if you only know one, you can make your solos much better by keeping three tips in mind.
Tip #1: Not Everything Needs to Sound Bluesy
Among the first scale patterns many guitar players learn is the first position of the A minor (Am) pentatonic scale, which they typically use over a 12-bar blues chord progression in the key of A.

Essentially, the minor pentatonic scale gives blues its desperate, lonely, dirge sound, which is also a staple characteristic found in a lot of rock 'n' roll, funk, metal and country songs.

The problem, though, is that the "bluesy" sound is only supposed to be an accent to the overall rule, which is to use minor pentatonic scales over minor chord progressions, and major pentatonic scales over major chord progressions.

As an example, this means that if you were tasked with soloing over a 12-bar blues in A, you would play mostly in the A major pentatonic, and then would throw in the Am pentatonic as an accent (typically over the D, and maybe the E), as opposed to the common practice of using the Am pentatonic over the whole progression.

That's not to say that in blues, you can't play the minor pentatonic over the whole progression. You can. But using it as an accent is more effective, more authentic and makes your solo sound more complex.

To further illustrate the point, in a country or pop song in the key of D, if you follow the general rule, you would mostly play the D major pentatonic scale for your solo.

If you played Dm pentatonic instead, the bluesy sound is going to clash against the brighter, happier characteristics of the major sounding song tones.

While you could, if you wanted, sprinkle in some Dm pentatonic throughout your major pentatonic phrases, you could also skip it all together and sound just fine.

Plus if you know how to play the minor pentatonic scale, you can already play the major version, even if you don't know it yet.

To play the major pentatonic scale, take your minor pentatonic scale pattern and shift it three frets back toward the guitar nut. So to find A major pentatonic, you find Am pentatonic first, and then move the whole scale pattern three frets back toward the nut.
Article continues past the image.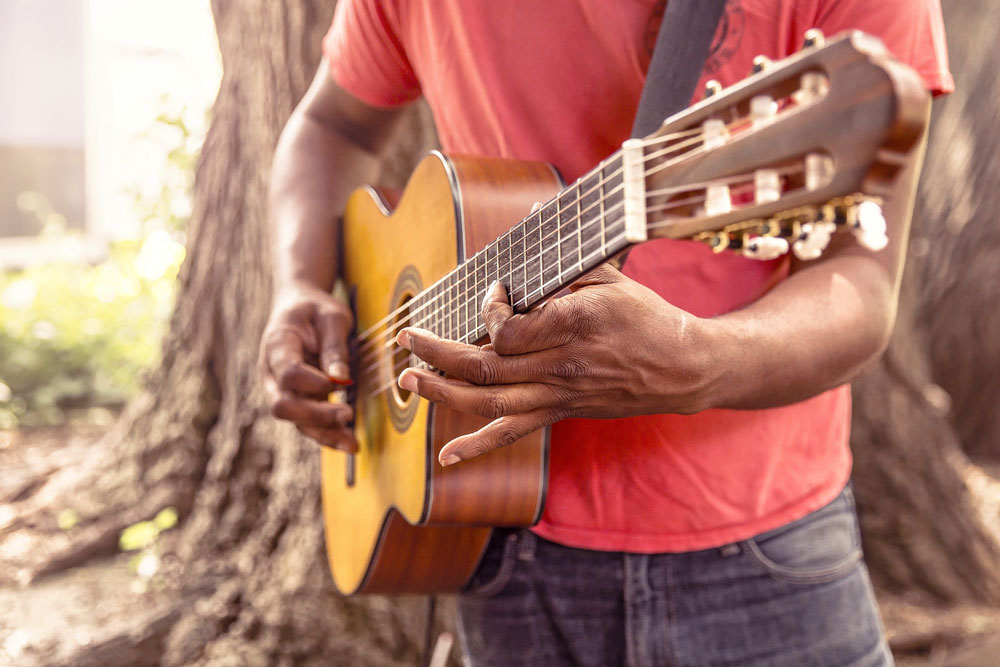 Tip #2: Strum Your Single Notes
Many guitar players separate their lead guitar playing with their rhythm playing, but in reality, the only real difference is that during lead playing, you switch to strumming single strings as opposed to all six strings.

While you do have to be more accurate when you switch to new notes, especially if they are on different strings, strumming your phrases rhythmically will immediately improve your soloing by giving a backbone to your licks.

To practice, start by strumming all six strings normally, and then pare it down to one string. From there, move up and down the string and make up phrases. Switch strings when ready and then work through a scale pattern.
Tip #3: Think In Terms of Melody
Memorable melodies are found everywhere, from commercial jingles to kid's songs, from pop song choruses to rap hooks. The number one question to ask yourself when you finish improvising a lick in a guitar solo is, "Was that a memorable melody? Or at least did it have a purpose toward making one?"

As a rule of thumb, if you're playing lead on a song, try to complement the main chorus hook in your solo. It doesn't have to copy it note for note, but it should remind the listener of the song.

If you're jamming over chord progressions, make your own melody and keep circling back to it, or if your jam partner makes one up, try to focus your solo around that.
Looking to Improve Your Guitar Solos?
Backing tracks don't always cut it when guitar players are practicing their solos. Sometimes, they just need some straightforward advice and feedback about how they approach their phrasing. Contact us today if you're interested in how we can help you improvise better guitar solos.