3 Tips for Playing a Better Guitar Solo
It seems that guitar players are always searching for the holy grail of six-string knowledge: the secret to playing an awesome guitar solo. But for the most part, it seems that many players already actually have the skills to play the perfect solo — they just need to change the way they think about playing scales on guitar.

See, when guitarists first learn to seriously play lead guitar, the first thing they typically learn is the Am pentatonic scale. Pentatonic scale patterns as a whole are powerful, movable and versatile tools that when played correctly, sound solid in virtually any guitar solo. However, far too many guitar players get stuck in Am pentatonic and never learn to manipulate it for broader use.

While aspiring lead guitarists really should take the time to learn all five patterns of the pentatonic scale, even if you only know Am pentatonic, you can make your guitar solos much better by keeping three tips in mind.
Tip #1: Not Everything Needs to Sound Bluesy
It happens in guitar lessons everywhere: a student wants to learn to play a guitar solo, so the teacher shows them the first position of the Am pentatonic scale and starts playing the 12 bar blues chord progression in the key of A major.

Over the major key, the Am minor pentatonic scale gives off a heavy, bluesy sound, which is a staple characteristic found not only in the blues, but also in a lot of rock 'n' roll, funk, metal and country songs.

The problem, though, is that playing the minor pentatonic over a major key is too bluesy, and it doesn't fit well in all styles of music. In fact, you should actually always default to the major pentatonic scale when you're playing in a major key. Only play minor pentatonic scales when you're playing in minor keys or in the blues.

To find the major pentatonic scale, take your minor pentatonic pattern and move it three frets back. For A major pentatonic, take the Am pentatonic scale pattern that you know, which starts with your index finger on the low E string, and move it three frets back, so that your index finger on the low E string is on the second fret. Then play the pattern from there.

No matter what style you're playing, it's best to choose the major pentatonic scale as a rule for guitar solos. For instance, if a country song is in D major, you don't play the Dm pentatonic scale. You play the D major pentatonic scale. A pop or rock song in C major? Play the C major pentatonic scale. A Spanish-flavored song in Gm? Well, that's when you play the Gm pentatonic.

Mostly, you should forget about playing the minor over the major, but blues is an exception. Now, even though you can play the minor pentatonic over the whole blues chord progression, it doesn't mean you should. Specifically in the blues, start with the major pentatonic and mix in the minor sparingly. A good starting approach for blues soloing is to play the major pentatonic scale over the I chord, while playing the minor over the IV and V chords. This will even out the bluesy sound with some more conventional notes that won't let you overdo it. In the key of A, this means that you'll play the A major pentatonic scale over the A chord and the Am pentatonic scale over the D and E chord.
Article continues past the image.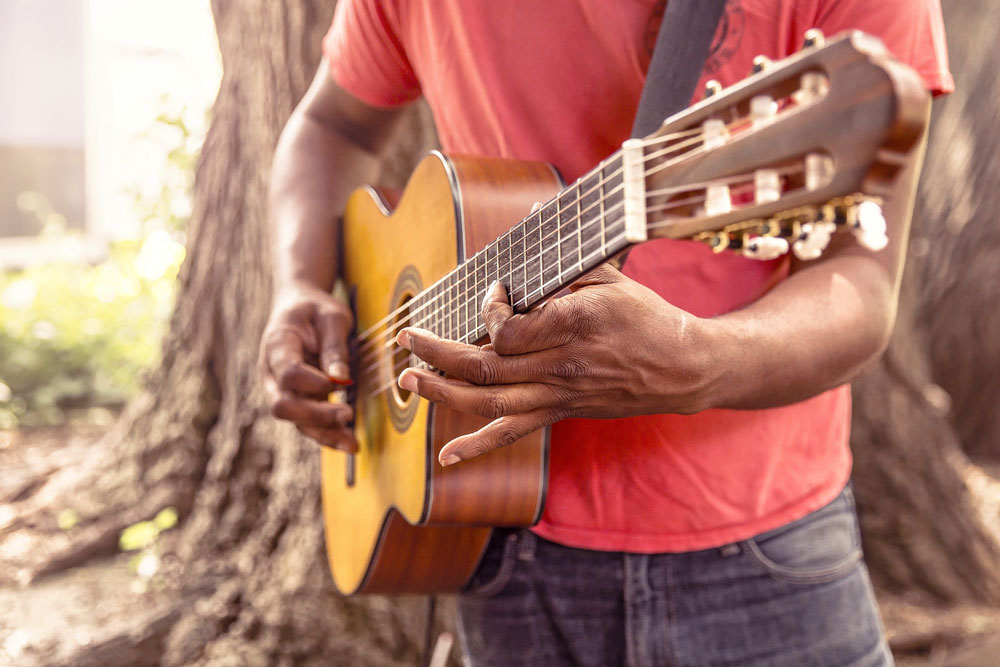 Tip #2: Strum Your Single Notes
Many guitar players separate their lead guitar playing techniques from their rhythm techniques, but this is a huge mistake. There is actually a direct line between how you strum and how you play individual notes, and if you've taken the time to get good at strumming, all you really have to do is adjust your mindset toward strumming your notes. To practice this technique, start by strumming all six strings normally, and then pare it down to one string. From there, move up and down the string and make up phrases. Switch strings when ready, and then work through a scale pattern.

While you do have to be more accurate when you switch to new notes, especially if they are on different strings, strumming your phrases rhythmically will immediately improve your soloing by giving a backbone to your licks.

The great thing about connecting your rhythm and your lead playing is that it's the gateway toward being able to play by yourself and go back and forth between playing guitar solos and strumming chords — the mark of an advanced guitar player.
Tip #3: Think In Terms of Melody
Memorable melodies are found everywhere, from commercial jingles to kid's songs, from pop song choruses to rap hooks.

As a rule of thumb, if you're playing a guitar solo in the middle of a song, try to play the melody of the song. You don't have to play it note for note, but it should mostly follow the rhythmic ebbs and flows of the song you're playing. If it pauses at the end of a line, your line should pause, too. If it holds out a note, you should hold out a note. It doesn't matter in the note is the same one. If you're in the right key, it will sound relevant enough.

If you're jamming over chord progressions with no melody, make up your own melody and keep circling back to it, or if your jam partner makes one up, try to focus your solo around that.
Looking to Improve Your Guitar Solos?
At the end of the day, your guitar soloing skills are dependant on how solid you are in the fundamentals. If you feel like you have any blind spots when it comes to the basic chords, strumming or don't know how to use a capo, check out our PDF guides or contact us for more information about how we can help you shore up your skills as efficiently as possible.