The Secret to Guitar is Good Rhythm
Many guitar players spend hours upon hours practicing new chords, scales, licks and melody lines, yet still find themselves sounding like they're unpolished players.

The thing is, while chord hand technique typically gets the most attention during practice time or guitar lessons, it's focusing on rhythm that sets apart a good, solid player from a run-of-the-mill one.
The Bedrock of Great Rhythm? Basic Chords and a Solid Strum
Strumming is one of the most underrated aspects of playing guitar, and all too often, people skip right over it. The best thing about having a good strum is that it makes it so that you can keep things simple with the left hand and still sound like you know what you're doing.

The best tool that guitar players have to becoming great rhythm players is something they learn from the start during guitar lessons: the basic open chords. So, if you can already switch the basic chords seamlessly, you're already on your way to a more polished sound.

Unfortunately, all too often, beginner guitar players make one of the most common and critical mistakes in the early stages of their development; in their rush to begin playing all the cool, intricate parts of their favorite songs, they do their best to get up the neck as quickly as possible and treat the basic chords as incidental bystanders to the song rather than the driving force.

The thing is, the importance of the basic chords can't be stressed enough; even the most intricate of songs can typically be stripped all the way down to a basic chord progression, and complex guitar parts derive from how players couple their knowledge of how to expand the basic chords with their polished rhythm tools.
Article continues past the image.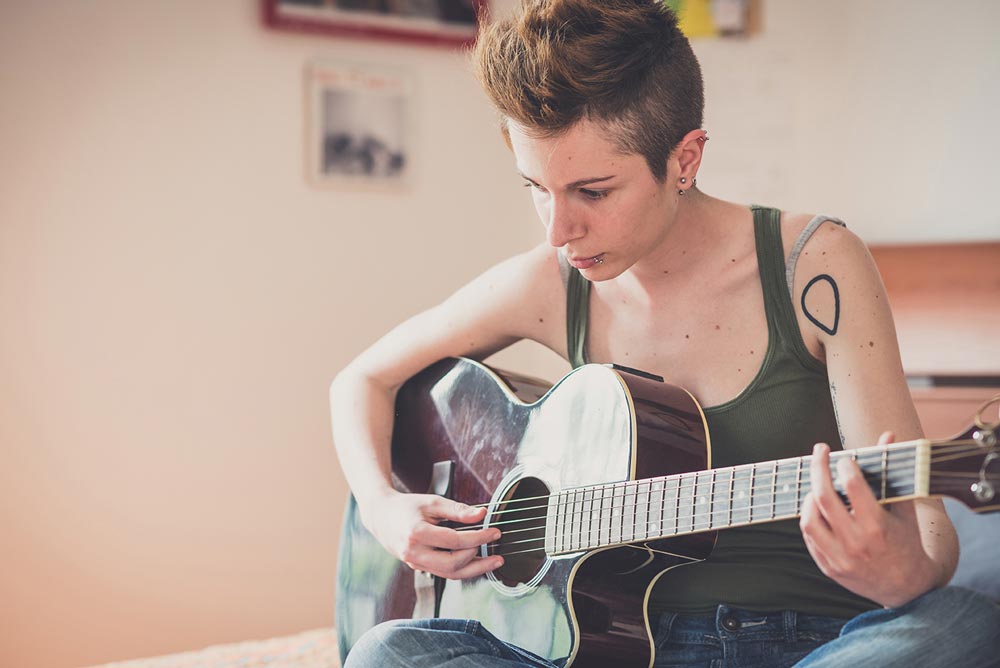 How Do You Know If You Need Work?
One of the first steps is to take a hard look at your strum. A choppy strum that lacks confidence is a dead giveaway that you need work.

You also need to clean up your strum if you can't sing and play at the same time or you consistently break time when you try to mix things up.
How Do I Clean Up My Strum?
The most tried and true method to improving your rhythm is to use a metronome.

While many guitar players despise using one, the thing that makes the metronome so effective is that it unmasks your rhythm issues for what they are, and knowing and accepting where you need work are among the first steps toward improvement.

Plus, the time between the beats of the metronome gives you a strict context to work on smoothing out your strum, and if you commit to working with one consistently, it will eventually instill near perfect time in your brain, so you'll never have to worry about getting off beat without one.
Strumming to the Melody and Thinking Like a Drummer
After you've become more confident with your basic strum, the next step is to mix up your strum patterns. While it would seem like the most obvious way to learn new patterns is to find specific ones to practice online, an alternative approach that's easier on your memory is to react to the melody of the song you're playing.

In practice, you could start exploring this approach by muting the strings and solely using downstrokes to hammer out the melody to a song you know back and forth, such as the ABCs song.

So, while you sing the song, the guitar strumming "pattern" would look like this:

(↓ on) A (↓ on) B (↓ on) C (↓ on) D (↓ on) E (↓ on) F (↓ on) G (pause)
(↓ on) H (↓ on) I (↓ on) J (↓ on) K
(↓ on) L (↓ on) M (↓ on) N (↓ on) O (↓ on) P (pause)

Note that when you get to the LMNOP section, your downstrokes will seem like they happen a bit faster, just like how the lyrics unfold as you sing it.

After you get the hang of this, add in upstrokes by first realizing that in order to do the next downstroke, you are always doing a silent upstroke. So, you can mix in upstrokes (conservatively is best in my opinion) by actually hitting strings on the way back up to your next downstroke.

As far as what to do during pauses, it helps to imagine a drummer's fill. This can be any kind of rhythmic pattern you can think up and if they are practiced enough (with a metronome, naturally), these fills often find their way interspersed throughout your playing of a song.

One thing to remember when starting your "drum fill" is to start it and finish it on a downstroke. It will make staying on time much easier.
Looking to Improve Your Rhythm?
Working on your rhythm is one of the most effective ways to improve your guitar playing. By taking guitar lessons, you can get essential feedback from an experienced player and learn how to maximize even the smallest amount of practice time.

Contact us today if you're interested in taking your guitar playing to the next level.