Tiny Tim: Singer and Ukulele Legend Buried in Minneapolis
Mostly because the ukulele is relatively easy to learn and pretty cost-effective, over the past few years, it's taken the world by storm. It seems everybody who ever wanted to play music is now trying to teach themselves the ukulele or take lessons.

Historically, the ukulele has gone in and out of popularity, but while the likes of 13-year-old Grace VanderWaal and Israel Kamakawiwo'ole have helped reinvigorate a new generation of enthusiasm for the instrument, the singer who put the ukulele on the map, was Tiny Tim, who's falsetto voice and eccentric style lives on in songs like "Tiptoe Through the Tulips" and "Livin' in the Sunlight.""
A Career Born in Stringed Instruments
Tiny Tim was born Herbert Buckingham Khaury, in 1932 in New York City. At an early age, Herbert was teaching himself guitar, violin and mandolin. He had a fascination with popular music from the 1890s to the 1930s and spent hours at the New York Public Library, photocopying sheet music from these eras and taking them home to learn.

Soon, he made the move that would end up defining him — he went from guitar to ukulele.  

After repeating his sophomore year of high school twice, Tiny Tim dropped out of school for good, certain he wanted to pursue music as a career. During the 1950s, he performed under the stage names Vernon Castle, Texarkana Tex, Emmitt Swink, and Judas K. Foxglove.
Article continues past the image.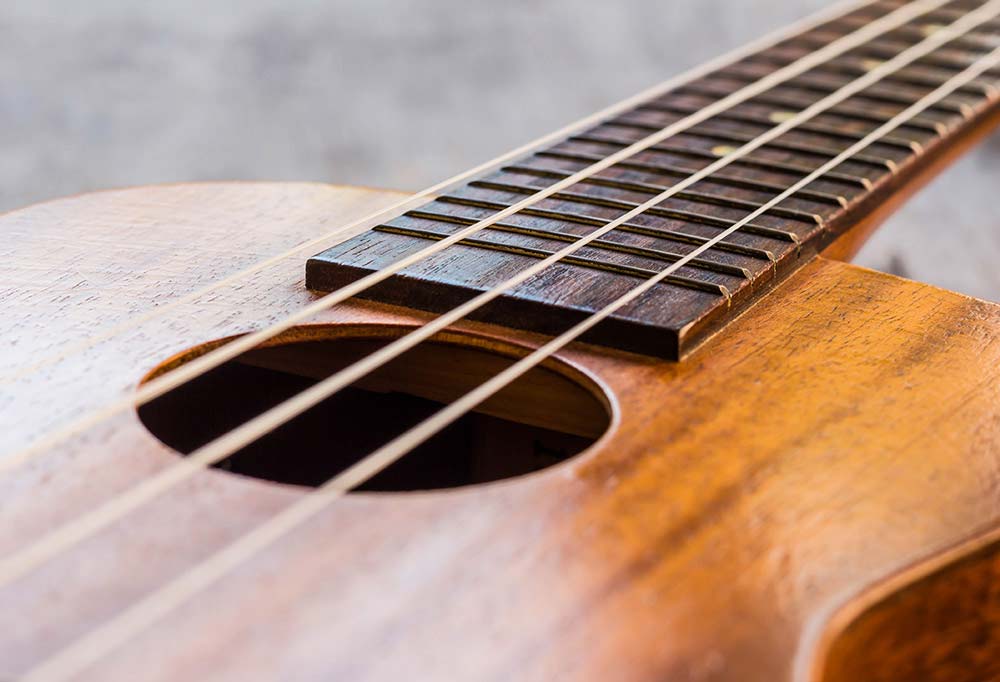 Experience Helped Him Hone is Stage Persona
While trying to improve at singing, he discovered that his falsetto voice and started performing in talent shows and amateur nights at dance clubs. In 1959, he decided he would be known as Larry Love, the Singing Canary.

As Tiny Tim gained experience, he crafted his now-iconic look and stage persona. He grew his hair long, wore heavy, pale makeup and donned outrageous outfits.
Breakthrough in the '60s
While singing his vintage tunes at Hubert's Museum in Times Square, Tiny Tim attracted the attention of his future manager, and in 1962, he scored his first paying gig, at Cafe Bizarre in Greenwich Village. He also started using the name "Tiny Tim" at the suggestion of his manager, who found it funny and ironic, considering he was over six feet tall.

Soon, he was getting enough attention to earn an appearance on the popular "Merv Griffin Show," which in turn led to a recording contract, appearances in films, TV shows and "The Tonight Show Starring Johnny Carson."

At the height of his career, Tiny released three albums, and in 1968, recorded his signature hit song, "Tiptoe Through the Tulips."

Also during this time period, he married his first wife, Victoria Budinger, known as "Miss Vicki" to most of the public. He and Miss Vicki, had two children. One, was unfortunately stillborn and the other was named Tulip Victoria.
End of an Era
The '70s was an end of an era for a lot of different styles of music in America, as R&B gave way to funk and bubblegum pop turned into heavy rock 'n' roll. Unfortunately for Tiny Tim, there wasn't much room on the airwaves for his style of music either, and his popularity began to wane.

He never stopped performing though, and in 1984, he married his second wife, Jan Alweiss, whom he called "Miss Jan" in public. Even as his health began to decline in the mid-'90s, he continued to perform and after his second divorce, he met and married "Miss Sue" — Susan Marie Gardner — who was from Minnesota. They eventually moved to south Minneapolis, and he played often around the Twin Cities area.

In 1996, he suffered a heart attack while playing at a festival, and even though his doctors advised him to stop performing, he kept at it. Within three months, he was gone after suffering another heart attack while playing his classic song "Tiptoe Through the Tulips" for the last time at the Women's Club of Minneapolis.

According to reports, over 700 people attended his funeral at the historic Basilica of Saint Mary in downtown Minneapolis. Tiny Tim was buried at the Lakewood Cemetery in Minneapolis, between Lake Bde Maka Ska and Lake Harriet, along with his ukulele and, of course, a tulip.
For More Ukulele Resources
Even though many great musicians have picked up the ukulele, you don't have to have any musical talent at all to learn to play. Relative to most other instruments, the ukulele takes no time to start learning, and it's very cost-effective to buy one, so there's little risk in trying.

Plus, you can even to teach yourself to play. Check out our PDF guides to get started. If you're interested in learning with a ukulele teacher, we offer online lessons or onsite lessons and, we're located in south Minneapolis. Since we're close to Highway 62, we also serve St. Paul and the Twin Cities suburbs conveniently. Send us a message to get started today.