Best Guitar Stores Minneapolis and St. Paul Offer
One of the most common things people ask me when they are researching places to take guitar lessons is if I can recommend somewhere to buy a guitar around the Twin Cities.

While it seems like an innocent enough question, I always seem to find myself writing a 15-minute email about the various merits of all the different ones in and around Minneapolis and St. Paul. The thing is, there are a lot of factors to that come into play when someone is getting ready to purchase a guitar, and cost is only the starting place.

The good thing is that the Twin Cities has a lot of great music stores, and whether you are looking to keep costs low, support a small business, connect with a network of musicians, or take music lessons, chances are one of them can meet your needs.

Personally, I go to a bunch of guitar shops around town for a variety of reasons — sometimes just to check out what's new. Here's a few of my favorite stores.
Blackbird's Music (South Minneapolis)
As one of the best guitar stores Minneapolis has, any musician who lives in the Twin Cities should be familiar with Blackbird's Music, and I send just about every student who lives in the area there for all their basic needs. While they don't have a very large selection of guitars available, they'll have you covered for pretty much all the accessories you need after the fact — strings, picks, capos and most everything else you can think of.

I have a particular affinity for the custom Blackbird's Music picks, and so whenever I'm running low on them, it gives me an opportunity to head down there and catch up the staff and owners who are incredibly friendly and helpful.

Everybody that works down there just seems impressively in tune with helping people find what they need, even if they have to send you somewhere else to get it. Plus, whatever they don't have on site, they can always order it.

While most stores offer that service, I feel like I can trust the people at Blackbird's to know what I'm looking for when I'm buying products I'm not familiar with, which stems from the fact that they are great musicians who still play great music.

Last but not least, Blackbird's offers some great jam sessions where anyone at any level is welcome. They do lean on the bluegrass and folk side of things, but even if that isn't your favorite style of music, it's a lot of fun to just hang out, share stories, and play with other people, which might even be a better way to learn music than taking lessons.
Article continues past the image.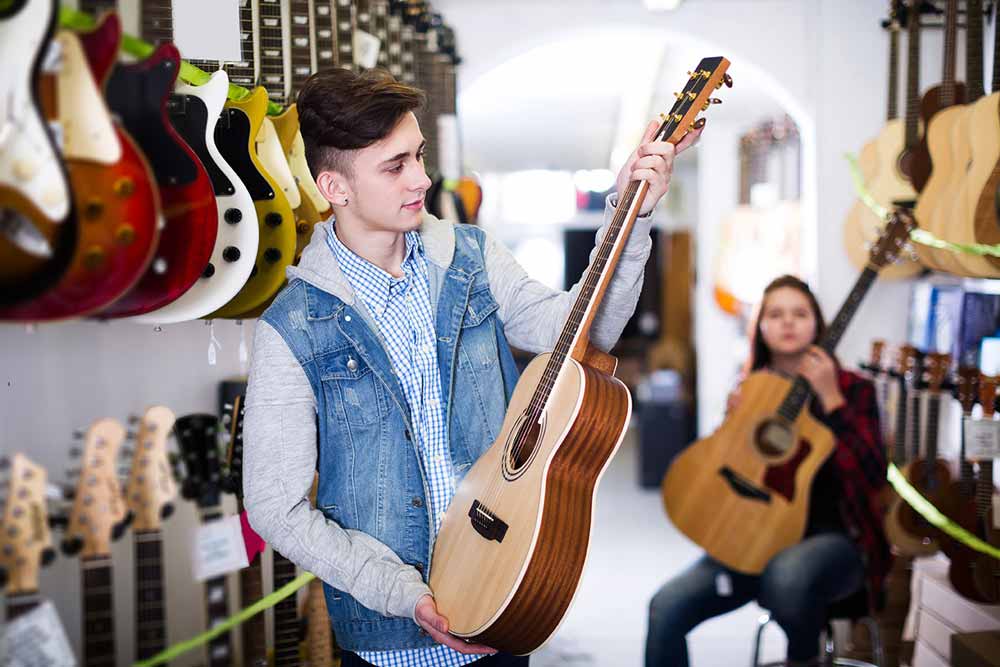 The Bloomington Guitar Center
It may seem odd to juxtapose a very local music store with a very commercial one, but the fact is, the Bloomington Guitar Center is still on every Twin Cities musician's radar because of its extensive selection and low prices. The Bloomington Guitar Center has a huge selection of acoustic guitars, electric guitars, amplifiers and accessories — I mean, it basically has everything.

I get that it's a big deal to support local, but it's also no secret that to do so, you probably have to pay a little extra, mostly because there's no way local stores can compete with the volume pricing the big chains can offer. The reality is, though, that not everyone has the luxury of paying that little extra and if there's an alternative for them, why shouldn't they take it?

Plus, because they have such a huge selection, they usually have better availability than some of the smaller shops, and sometimes, I want something today — not in two weeks.

The Bloomington Guitar Center is also a valuable resource for beginners who are choosing their first instruments for guitar lessons. Hands down, they have the best combination of price point and selection when it comes to entry-level guitars.

At the end of the day it's a must-stop shop when you're looking around for gear. Gear can be pricey, and it pays to due your due diligence. Even if you choose to buy what you're looking for somewhere else, you can probably try it out at Guitar Center first and also check out all of its competitors' products.

You simply can't do that way anywhere else.
Willie's American Guitars (St. Paul)
Willie's American Guitars is one of the best guitar stores St. Paul offers and is an institution among Twin Cities guitar players, and with the closing of The Podium in South Minneapolis a few years back, no other place in the area can compete with its impressive selection of high-quality used acoustic guitars, electric guitars, ukuleles, basses and mandolins.

I tend to buy used if I am buying "forever" instruments, and Willie's is always my first and sometimes only stop on that journey. The customer service is excellent, and the staff always seems to be really excited about each instrument in its inventory. Plus, pricing is fair, which can often be an issue when buying anything labeled "vintage."

In general, the way guitar manufacturers outsource guitars in the $500-$1,000 price point, I think spending a little more money to buy used is the best avenue for buying a guitar with that budget in mind, and this guitar shop simply has the highest quality when it comes to used Martins, Gibsons, Fenders and Guilds. While you can buy some pretty nice used guitars on reverb.com, guitarcenter.com and even craigslist, the problem with going that route is that not only can you not play the instruments, you also don't really know 100% what you're getting. At Willie's, they are great at restoring vintage instruments, to the point that even ones that have had a lot of repairs still play better than a lot of brand new ones. Highly recommend Willie's American Guitar players — I almost don't allow myself to go there because I'm always afraid I will buy something else from them.
Groth Music (Bloomington)
Groth Music on 81st and Nicollet is not only a great guitar shop, it's also a great store for musical instruments in general. Their guitar repair department is excellent but I've also had good experiences with the luthier who handles other types of stringed instruments such as violins, cellos and upright basses. Groth Music probably has the best selection of new ukuleles in the Twin Cities, and I send all my beginner ukulele students there when they want to upgrade their instrument. When it comes to guitar amps, the have just enough selection that it doesn't seem overwhelming, and the other thing I like about this guitar store for amps as opposed to Guitar Center is that you simply don't have to compete with all the other guitar players trying out amps.

In general, it's a quiet shop, perfect for checking out their massive selection of music books and resources. In fact, there probably isn't another guitar shop for 1,000 miles that has such a large selection of music. It's also got a pretty large selection of kids instruments, so it's a good stop if you want to introduce even young children to playing music.
Twin Town Guitars (Kingfield neighborhood in south Minneapolis)
I personally don't find myself going to Twin Town Guitars all that often because when I buy, I usually by used, and when I need guitars repaired, I've built up relationships in other places. But I send a lot of guitar students to Twin Town because not only it's very local to many of them, but also because it's practically guaranteed to have everything they need. I always kind of consider guitar stores like this to be Guitar Center Lites because they sell mostly new instruments and gear. I've always had good experiences with Twin Town — the staff is always helpful and knowledgeable, not to mention patient, as I tend to ask a lot of questions when I'm looking to buy something.
Crow River Guitar and Sound (Delano, MN)
On the very edges of the Minneapolis and St. Paul area is Crow River Guitar and Sound in Delano. I visit guitar shops in almost every town I ever go, and this place made a big impact on me. The have one of the biggest selections of ukuleles in the entire Twin Cities area and overall are just so passionate about the community that supports their store. The other thing I like about this shop is that while they do have some of the standard types of new guitars that other stores carry, they also sell some really interesting instruments from smaller guitar shops in the Pacific Northwest. If you're guitar player and happen to be in or near Delano, stop in to this store — you won't regret it.
Are You Shopping Around for a New Guitar?
Whether you are searching for your first instrument for guitar lessons or just like to try out what's new, Blackbird's Music, the Bloomington Guitar Center, Willie's American Guitars and these other guitar shops are great places to check out.

If you're looking to buy a guitar, one thing you're going to want to do is a lot of research. You have to remember that guitar stores ultimately want to sell you guitars, and even though I trust every one of these places to do their best to help people buy guitars, in other shops around the country, I've seen some pretty bad salespeople as well.

Also keep in mind that all guitar stores have to make a profit on any instrument they sell, so just because you found something online that was cheaper, it doesn't mean that the store is overpriced. While online guitar stores might offer something cheaper in some instances, usually, they don't have the same selection or are as trustworthy as good brick and mortar stores. At the end of the day, the best way to know whether or not you got the most bang for your buck is to spend the time shopping and buy something you like.

If you're a beginner guitar player, one quick tip is to never buy the most expensive entry-level instrument nor the cheapest, and you can almost never go wrong with stalwart brands such as Yamaha, Fender, Epiphone and Ibanez. Check out our primer on how to buy an acoustic for more tips of purchasing guitars.

Many guitar shops in the Minneapolis and St. Paul area also offer guitar lessons, and it's important to know that realistically, you can control your own learning if you know what you need to learn to be successful. First and foremost, beginner guitar players need to learn the basic chords as well as how to strum them within the context of songs. Then, they need to learn to transpose song chords and use a capo effectively. Essentially, they need to become solid rhythm guitar players.

For help getting there, Approachable Music teaches in an intuitive and efficient manner that can help you become the player you want to become. Plus, we offer flexible scheduling allows people to work at their own pace without worrying if they are practicing enough to make their investment worth it.

We can even help if you prefer to teach yourself guitar.

Please contact us if you are interested in learning or getting better at guitar.