Guitar Lessons in Minneapolis and St. Paul
If you've never played guitar before, we'll teach you the basic skills to play and sing a song in the first half-hour lesson, something that would take months at a different studio (as well as a lot more money). If you've been playing a while, but stuck in a rut, we'll give you practical ideas on how to improve your rhythm and get better at guitar soloing, while only venturing into the most useful music theory principles.

In most situations, we can help you gain a lot of ground in very few lessons.
Details
$40 per half-hour session
Currently giving lessons in south Minneapolis, right by St. Paul and close to Richfield, at Minnehaha United Methodist Church. Address: 3701 East 50th St. Minneapolis, MN 55417
Guitar lessons online available through Zoom
We offer kids guitar lessons as well as lessons for adults of all levels: beginner, intermediate and advanced
Focuses on skills needed for real-world playing situations
Can include basic vocal coaching if requested and at no additional charge
Acoustic or electric guitar lessons available
The stuff we teach in our lessons translates to all styles, except maybe classical music.
Flexible scheduling that takes into account how busy Minneapolis, St. Paul, and Twin Cities suburb residents can be due to the changing seasons
Weekly, monthly, bi-weekly, once-in-awhile or even one-off guitar lessons available.
Scroll past the image for more information.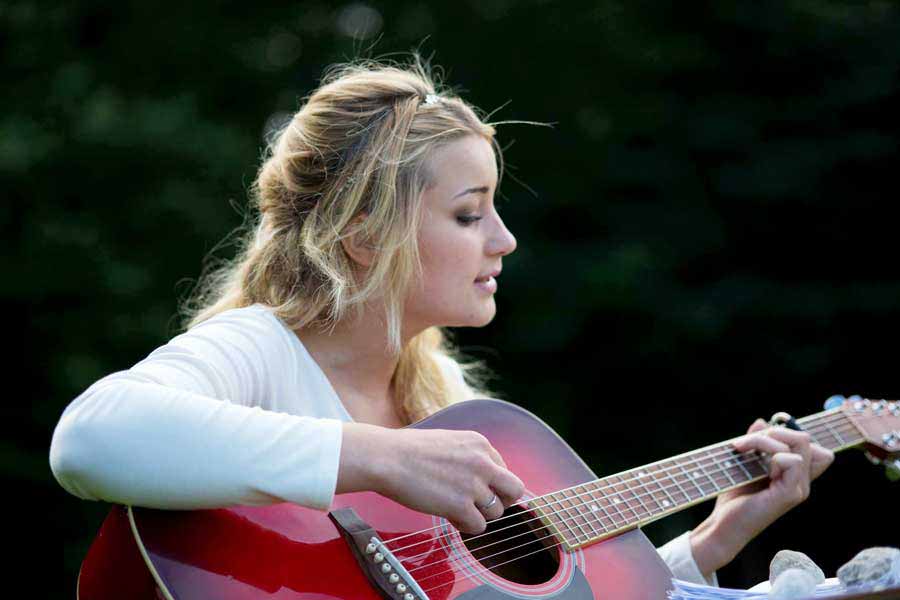 What to Expect in General
At the end of the day, we want guitar lessons to be worth it for you. Sure, you could learn all the guitar tricks in the world, but everything you learn in our lessons is designed to make you a great player as efficiently as possible.
What We Teach Beginner Guitar Students
Primarily in our beginner guitar lessons, we teach students the 16 basic guitar chords that ultimately, they simply must know. As students learn the chords, they also get taught a bulletproof method for strumming that gets them that professional sound in a practical and practiceable way. We also teach beginners how to transpose song chords and use a capo to its maximum benefit. As these are the core skills for how to play guitar in almost every real-world situation, we focus on these concepts almost exclusively until the student has a handle on them within the context of songs.
How We Can Help You Improve Your Guitar Playing
Whether you play acoustic or electric guitar, if you're looking to improve your guitar solos or just your overall guitar playing, chances are, we can help you improve dramatically in as little as a couple guitar lessons or one long lesson. We simply look at the fretboard completely differently than even some of the best guitar teachers in Minneapolis and St. Paul. We offer simplified and intuitive approaches that you can use to tackle some of the most challenging aspects of not only playing guitar solos with other people, but also mixing scales and guitar chords so that you can play guitar solos for songs you perform all by yourself.

For a taste of these techniques, check out our solo blues PDF which offers a starting point for mixing chords and scales. And now that you mention it, if you're into learning the blues, it's one of our favorite styles of music to play, let alone teach.
Frequently Asked Questions
What kind of guitar should I use?
For adults, the path of least resistance is to buy a new, full-size, entry-level, steel-string acoustic guitar. For a young child, buy a kid's guitar, but make sure it's not a toy. If you're a lefty, you can either buy a lefty guitar or learn righty — it really doesn't matter. The fact is, you have to be excellent with both hands. You figure, they don't make lefthanded pianos, right? Obviously, most guitar resources are righty-driven, but I suspect that's nothing new for you. If you do decide to go lefty, you should be able to adapt just fine.

As far as used guitars, the best advice for a beginner is to buy a cheap one that doesn't look too beat up. Typically, the worse it looks, the harder it will be to play. If you're using an electric guitar, you need an amplifier to hear what you are playing. This makes your guitar less portable, but all the stuff you'll learn in this guide still applies. You could also use a nylon-string, or classical guitar with this guide. It has a wider neck than a steel-string, which can make starting out a little more challenging, but probably not enough to be a hindrance. Ultimately, a steel-string is simply more all-purpose and portable than the alternatives.

How much should a guitar cost?
Of the entry-level models, don't buy the cheapest one, and don't buy the most expensive one.

How long does learning guitar take?
Learning guitar is really a lifetime process. On the very first day, you can learn the basics and start trying to fumble through songs. From there, go by yearly checkpoints. Playing guitar is a marathon, not a sprint, and your progress is directly tied to how much work you put in. I would put in as much work as possible and if you're still playing consistently in a year, you probably like doing it enough to be on the right track. Sticking around long enough to get hooked is actually the hardest part.

Do I have to learn to read music?
No. While it's a valuable skill for advanced playing, it's not particularly necessary for singing and playing at the same time. There are other references for that.

Do I even need guitar lessons?
You should save your money or find a different teacher if you're a beginner working more on scale notes and not chords. Most people can learn how to sing and play a song in about 30 minutes, yet most teachers wouldn't get to it for months.

The thing about learning guitar is that unless you want to become a classical guitar virtuoso, you can easily teach yourself to play if you are self-motivated to practice and have the right instructions. While the practice part really is the most crucial ingredient for success, good instructions can help you get from point A to point B much more quickly and with much more certainty than without them. Think about it: you wouldn't go on a road trip without a map, right?

See, there are certain aspects of playing that you simply have to be able to execute to be considered a real guitar player, and most of the time, those things aren't communicated very clearly to beginners and intermediate players.

That's where guitar lessons can really help — they provide a clear outline of each skill you absolutely need to be able to do on the guitar, as well as practical instructions for getting there.

Plus, if you have a good teacher and you practice, lessons can help keep you accountable, get you out of a rut and promote polished skills. But, it's also perfectly okay to skip them. Just watch a lot of videos and practice as much as possible. If you're willing to work, you'll be fine without them.

How much do I need to practice guitar?
Well, that depends on your goals. If you want to be good enough at a musical instrument that you get paid for it, you have to practice a lot — like more than two hours a day. In fact, you probably have to love practicing in the sense that there's people who love broccoli.

But if you just want to play for fun and improve at a lazy pace, you'll get good enough by just playing consistently. But the key word is consistency. You might have only five minutes three times a week. That's perfectly fine, but commit to it. Schedule it like you would an important work meeting.

At first, it's really hard to motivate yourself to practice consistently because it feels like you're not getting anywhere. But persevere, and eventually, you'll one find yourself one day doing some pretty fun stuff. And then, you'll be surprised how quickly an hour has flown by.
About the Guitar Teacher
Joshua Espinosa is a Los Angeles native who lives and works in Minneapolis, MN. He's a working musician who plays all over St. Paul and the greater Twin Cities area. He primarily plays guitar, harmonica, violin, bass and sings. He founded Approachable Music in 2016 with a goal simply to teach people how to play guitar in real-world settings, as most guitar lessons seem to be taught in the classical style. A prolific writer, much of his guitar teaching techinques can be found in the books on the PDF music instruction guides page. With background in marketing, design and web development, he also teaches in the graphic design department at North Hennepin Community College in Brooklyn Park, MN.

Today, the goals of Approachable Music have shifted toward generating awareness to the inequities in music education, with the hope that a progressive teaching outlook can change the way music is taught in schools at every level.
From the Founder...
I'm genuinely glad that you're thinking about learning guitar, so even if you want to go to someone else to take lessons, I'm happy to give you quick guidance on what you want to learn. Just give me a call — I know all the places that give the best guitar lessons Minneapolis and St. Paul have to offer. For people not in Minneapolis, St. Paul or the greater Twin Cities, just one or two online guitar lessons can help immensely with how you work with your current teacher.
Great Guitar Shops for Buying Your Instrument
The best guitar store for everyone's needs is either Twin Town Guitars, or even the Bloomington Guitar Center. For a vintage, used guitar shop, it's Willie's American Guitars. The best guitar repair near me, in case you're looking, is Groth Music.
What Guitar Brands Josh Recommends
When it comes to new, entry-level acoustic or electic guitars, any of the brands are going to be fine, but in particular, you can't go wrong with Fender, Ibanez, Yamaha or Epiphone. For a new acoustic in the $500-$1,000 range, I would almost exclusively choose a Seagull guitar. I especially like the Maritime models. For an acoustic above $1,000 brand new, I wouldn't consider anything but a Gibson. A brand in particular I would avoid when it comes to new acoustic guitars is Martin. Sometime between 2005-2010, they switched to outsourcing much of their guitars at the mid-range price point, and the fact of the matter is, they're simply not the same. That means, they're selling a lower quality instrument at pretty expensive prices. I just don't think highly of them.

Personally, I really wouldn't buy an electric within the $500-$1,000 range. These days, I don't think you get that much better quality than entry level electrics. You're really better off spending a few hundred dollars more to get a solid American-made Fender or a Gibson. I'm not really big on other electric brands until things start to get really pricey. A Fender Srat or Tele are always good workhorses and usually retain good resale value. Same goes for something like a Gibson Les Paul.

Really, though, there's a lot of value on the used market. I tend to buy all my guitars used on either Craigslist or even at the Bloomington Guitar Center. This is where I'm looking for old Seagull S6 guitars, Guild Guitars that were made in Westerley, Rhode Island and Gibson LG models. Of course, I'm always looking at used Fender Strats and Telecasters as well as Gibson electrics.
Are You Interested in Taking Lessons?
Please contact us for more information about taking guitar lessons with us. You can also contact us to discuss pricing for group guitar lessons or guest teaching.