3 Ways to Get Yourself Out of A Playing Rut
When someone has played guitar, ukulele or any other instrument for a while, it can be difficult to stay motivated to play, especially if music is a low priority compared to things like a demanding job or shuffling kids around to extracurricular activities.

Still, many people who fall into a playing rut express regret about letting their instrument fall by the wayside, and there are tricks even committed, advanced players do to keep improving when motivation wanes.
Place Your Instrument in a Highly Visible Place
Considering the fact that many people keep their instruments tucked away in a case somewhere out of the way, one of the simplest and best ways to sneak in some practice time is to keep your instrument visible and accessible enough for when you get the slightest urge to play.

For guitar, ukulele or other strings players, a floor stand or a wall mount near the television does the trick, and similar solutions can usually be found for other instruments.

Consider that disadvantages to keeping an instrument out can include it getting knocked over or, as is the case with wood-based instruments, it being exposed to humidity fluctuations that can possibly cause body damage.

Usually, though, these problems can easily be avoided with some foresight and research.
Article continues past the image.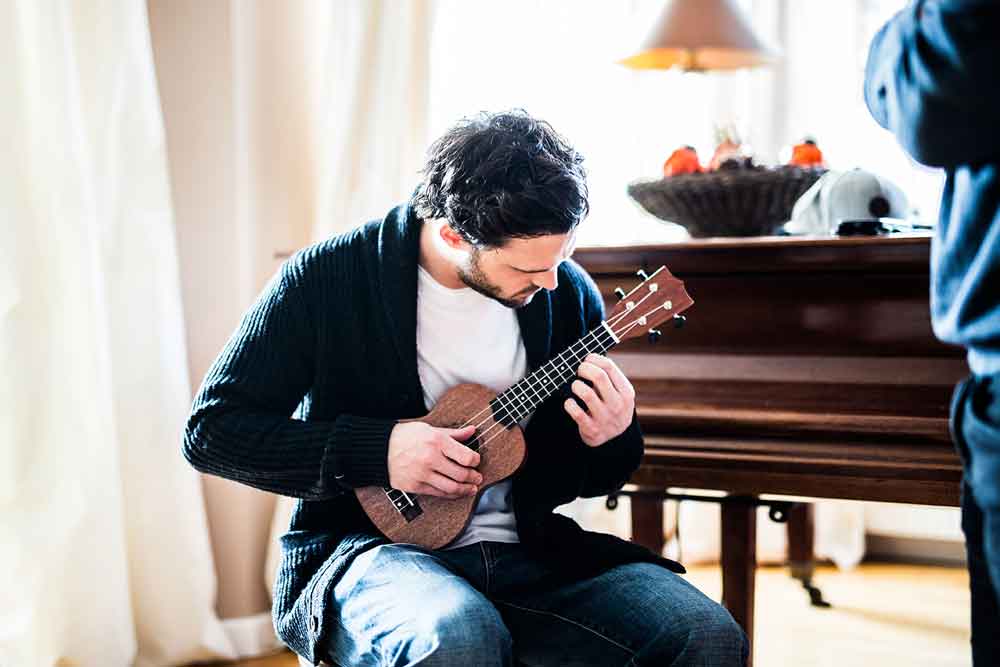 Set Up a Music Space
If you have any spare area available in your house or apartment, a solid alternative to keeping your instrument out is to set up a space specifically to "work" on music, sort of like an office.

Setting up a dedicated space to play and fine-tuning its characteristics so that you want to spend time there can be an inspiring way to help you improve your playing, and even the smallest areas can be useful. All you really need is a good music stand, an instrument close by and a place to put your music or learning resources.
Find a Local Jam Session
Playing an instrument is often a solitary activity, but there are so many benefits to playing with other people that many of the best music teachers think that it's as good, if not better than lessons.

Unfortunately, many people don't have a lot of people in their circle who play an instrument, let alone those that can commit to regular social playing on top of their own practice.

A typically overlooked resource for playing with other people however, are music stores or organizations that offer regular jam sessions.

Jam sessions usually consist of a bunch of musicians of varying skill levels playing songs together. While jam sessions often include players with a variety of instruments, sometimes, everybody is playing the same type.

Most of the time, the people are very nice and very happy to see new faces regardless of skill level, so it's a low-pressure way to gain experience, pick up new techniques, meet musicians and learn some new songs.
Have You Been Stuck in a Playing Rut?
If you have been playing guitar or ukulele for a while and have been playing the same old stuff lately, we offer a variety of options that help get people out of a rut by challenging them with next-level skills.

Our guitar or ukulele lessons are designed to get busy people the furthest fastest, which helps ensure that every dollar or minute spent on getting better at their instrument actually leads them to playing what they want to be playing. Contact us today for more information.