How to Teach Yourself Guitar in 5 Steps
In this day and age, most people who decide to learn guitar want the ability to play their favorite songs while they or someone else sings.

This level of guitar is called rhythm guitar and really doesn't take that much knowledge to fully learn, so beginners can start practicing it within the first couple hours of bringing home their first guitar. Here's how to teach yourself guitar in the most efficient way possible.
How to Practice Guitar
This method for learning guitar is designed for everyday people and kids who are busy and sometimes have to miss practice time because of life's curveballs.

So, aim for 10 minutes of practice per day, and find solace in the fact that 3-4 days a week seems to be fairly average among most beginner guitar students.

It's even worth it to only pick up the guitar for only a couple minutes, like when water is boiling, the table is getting set or the kids are putting on their shoes because beginners often become pretty satisfied with their progress after about 20 total hours of practice time. That means that every little bit helps.

The powerful thing about learning to play rhythm guitar is that you don't have to learn anything else beyond the basics to have the ability to play thousands of songs. Then, you can go to a site such as ultimate-guitar.com, find a song you like, and start trying to play it on the first day (tip: use the 'chords' version with the highest rating number).
Article continues past the image.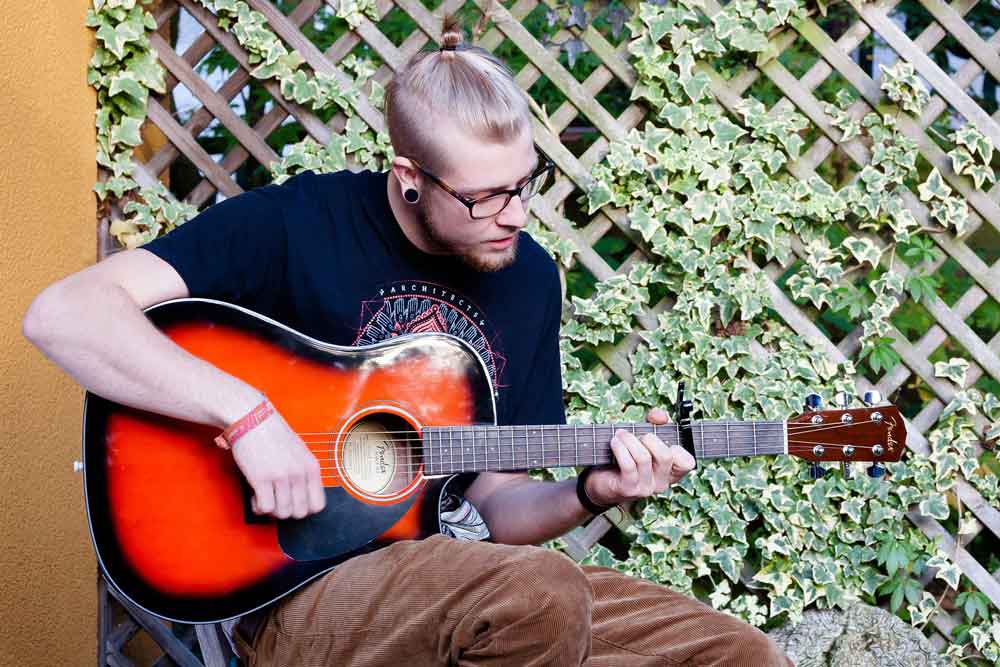 Step 1: Before You Play Anything, Learn to Read a Chord Chart
Rhythm guitar consists of two main skills: switching guitar chords with one hand while strumming with the other.

There's nothing more important for beginner guitar players to do first than to learn how to read a chord chart, considering that it tells you where to place your fingers in order to create a guitar chord.

Watch a couple of videos or read a couple of tutorials, then find a resource that contains the basic guitar chords.
Step 2: Learn Your First Four Chords
While there are countless guitar chords available, the most valuable chords to learn first are G, Em C, and D, which are the essential chords of the key of G.

Starting with the G chord, place your fingertips on the guitar fretboard according to its chord chart. If you aren't sure if you've placed your fingers correctly, check your work by watching a video or looking at a photo.

Then repeat the process for Em, C and D. These four chords are so common that you can find hundreds of songs to play that use them only.
Step 3: Basic Guitar Strumming
Next, it's time to learn how to strum to a count. The count is the backbone of every song and helps us know when to switch from one chord to another. The most common count in music is to 4, and songs are essentially just a repetitive series of 4-counts from start to finish:

1 and 2 and 3 and 4 and 1 and 2 and 3 and 4 and REPEAT UNTIL END OF SONG

To apply the 4-count to the guitar, place any chord — say G — and strum down on any number and also on any 'and':

1 (strum down)
and (strum down)
2 (strum down)
and (strum down)
3 (strum down)
and (strum down)
4 (strum down)
and (strum down)

Be easy on the strings; you just want to graze every one on the way down.
Step 4: Switching Chords Along the Count
Songs typically consist of a group of around 3-5 chords, called a chord progression. The crux of playing songs on guitar is switching between these chords somewhere along the repetitive series of 4-counts.

Chord switches come in three basic categories, which we mix and match across songs. Usually they are switched on either:
The 1 of the count
The 1 and the 3 of the count
Or each number of the count: 1 2 3 4
For example, this is what it looks like if you strum a 4-count while using the chord progression of G Em C D and change to the next chord every time you return to 1:

start with G on 1 and 2 and 3 and 4 and
change to Em on 1 and 2 and 3 and 4 and
change to C on 1 and 2 and 3 and 4 and
change to D on 1 and 2 and 3 and 4 and
change back to G to start again on 1 and 2 and 3 and 4 and...

Using the same progression, switching on the 1 and the 3 of the count looks like this:

start with G on 1 and 2 and
change to Em on 3 and 4 and
change to C on 1 and 2 and
change to D on 3 and 4 and
change back to G to start again on 1 and 2 and...

Finally, this is what it looks like to change on every beat:

start with G on 1 and
change to Em on 2 and
change to C on 3 and
change to D on 4 and
change back to G to start again on 1 and...

Note that a lot of songs will follow either example 1 or 2 the whole way through, but you'll also often see a mixture of both in some type of repetitive pattern.

The every number in the count example is more of an emphasis technique, but it's a great way to get faster at switching chords, so use it often in practice.
Step 5: Strumming to the Melody
As you gain confidence with your strum and chord switching, you still need to apply both to a song. While most beginner guitar players go the route of learning canned strum patterns, an alternative approach that sounds more professional is to use the melody of the song you're playing as your guide.

Consider that the melody is basically just words put to the notes in the song, so in practice, you could start exploring this approach by muting the strings and strumming downstrokes for every syllable of the song, while making sure to leave enough space for any pauses. To see this in action, mute the strings and play one downstroke per syllable for a song you know very well, such as "The Alphabet" song.

So, while you sing your ABCs, the guitar strumming "pattern" would look like this, making sure to play nothing over those those pauses:

(Down on) A (Down on) B (Down on) C (Down on) D (Down on) E (Down on) F (Down on) G (hold out the pause)
(Down on) H (Down on) I (Down on) J (Down on) K
(Down on) L (Down on) M (Down on) N (Down on) O (Down on) P (hold out the pause)

This approach works best because there is rhythm built in to each melody, and dialing into it helps better connect your strum to the unique characteristics of each song. Plus, this one downstroke per syllable method will work with any song, and will help you get up and running with playing songs on the guitar quickly.
Connecting the Count to a Song
The '1 and 2 and 3 and 4' strum, which is played with all downstrokes and called the eighth note strum, serves as the basic strumming foundation for all songs. It's the starting point, as well as the main constant that you can always stay on or come back to in times of uncertainty.

Here's a general rule of thumb for playing songs: when in doubt, play the eighth note strum straight. The first step to applying an eighth note strum to songs is to attach the count to not only the lyric syllables, but also the pauses. Treat pauses exactly like syllables because they take up beats in a measure in the exact same way — they're like syllables that you don't sing.

A good way to do this is to sing the song tune as you know it, except replace the syllables and pauses with either a number or "and" from the eighth note strum count: 1 and 2 and 3 and 4 and.

For example, in the first line of "Mary Had a Little Lamb," instead of singing "Mary had a little lamb (pause)," you would sing — using the same tune — "1 and 2 and 3 and 4 and," with "and" in beat 4 accounting for the pause.

Be careful not to skip that pause beat because not only is it actually part of the song, it also completes the 4-count, which can never be cut short.
Learning More Guitar Chords
A few weeks in, after you've played some songs and gotten comfortable with the key of G chords, it's time to add one more chord to your arsenal, Am, and then start the first real test of your commitment to learning guitar: the F chord.

By this time, the Am chord will seem really easy, but the F chord is far and away the most difficult chord for beginners, as it takes a certain hand strength coupled with finding personal leverage tricks to make it work.

It's every beginner guitar player's rite of passage, and while it's maddeningly frustrating, with enough trial and error you'll eventually get it.

The best piece of advice is to not avoid working on it and also to remember in times of frustration that every single guitar player has had to go through this dark time.

While you wrestle with F, feel free to learn other chords as they come up in songs. Note that in the beginning, it's perfectly okay to substitute chords like G7 or Cadd9, Dsus for G, C and D respectively. Just don't do it if you see a # (sharp) or 'b' (flat) sign, though.
Next Steps: Improving Your Rhythm and Cleaning Up Chords
Many guitar players spend hours upon hours practicing new chords, scales, licks and melody lines, yet still find themselves sounding like they're unpolished players.

The thing is, while chord hand technique typically gets the most attention during practice time or guitar lessons, it's focusing on rhythm that sets apart a good, solid player from a run-of-the-mill one.

Strumming is one of the most underrated aspects of playing guitar, and all too often, people skip right over it. The best thing about having a good strum is that it makes it so that you can keep things simple with the left hand and still sound like you know what you're doing.

The best tool that guitar players have to becoming great rhythm players is something they learn from the start of guitar playing: the basic open chords. So, if you can already switch the basic chords seamlessly, you're already on your way to a more polished sound.

Unfortunately, all too often, beginner guitar players make one of the most common and critical mistakes in the early stages of their development; in their rush to begin playing all the cool, intricate parts of their favorite songs, they do their best to get up the neck as quickly as possible and treat the basic chords as incidental bystanders to the song rather than the driving force.

The thing is, the importance of the basic chords can't be stressed enough; even the most intricate of songs can typically be stripped all the way down to a basic chord progression, and complex guitar parts derive from how players use their polished rhythm tools to expand their knowledge of the basic chords.
How Do I Clean Up My Strum?
No matter how you started guitar, you need to make sure that you can sing and play at the same time, as well as be able to stay in time. If you're unsure about either of these skills, the most tried and true method to improving your strum on guitar is to use a metronome.

While many guitar players despise using one, the thing that makes the metronome so effective is that it unmasks your rhythm issues for what they are, and knowing and accepting where you need work are among the first steps toward improvement.

Plus, the time between the beats of the metronome gives you a strict context to work on smoothing out your strum, and if you commit to working with one consistently, it will eventually instill near perfect time in your brain, so you'll never have to worry about getting off beat without one.
Improving Your Guitar Playing is a Life-long Task
Working on your guitar playing really never ends, and is in fact, part of the fun of being able to play. While teaching yourself is definitely a viable way to learn, it's always helpful to take a few guitar lessons once in a while, so you can get essential feedback from an experienced player and learn how to maximize even the smallest amount of practice time.

Contact us today if you're interested in taking your guitar playing to the next level.