3 of the Best Guitar Players of All Time
When rock 'n' roll hit the airwaves around the early 1950s, the guitar became the most popular instrument in the world almost overnight. Kids everywhere were begging their parents to quit piano so they could take guitar lessons, and soon, the brass-wielding big bands of the previous generation faded into the background.

In the early stages of rock, guitar players like Chuck Berry and Carl Perkins were forging the new rules of popular music, setting the foundation upon which future generations of guitar players continue to build.

While Berry and Perkins are in a class of their own, let's take a look at three other guitar gods that continue to influence the masses, and who are must-listens for younger players.
Jimi Hendrix
For many guitar players of a certain age, the conversation about the best guitar player of all time begins and ends with Jimi Hendrix. His blues-based, heavily-distorted style of play was arguably the pinnacle of rock guitar playing and while millions of players have since tried to duplicate his sound, it never seems that anyone comes close.

His stage theatrics were just as well-known; he often played with his teeth or behind his back, and during his coming out party at the Monterey Pop Festival in 1967, he doused his Fender Stratocaster with lighter fluid and lit it on fire.

Heightening his myth, Hendrix tragically died of an accidental mix of sleeping pills and red wine in 1970 at the age of 27.

If you've never listened to much Hendrix, three albums to start with (in no particular order) are Electric Ladyland, Are You Experienced?, and Band of Gypsys.
Article continues past the image.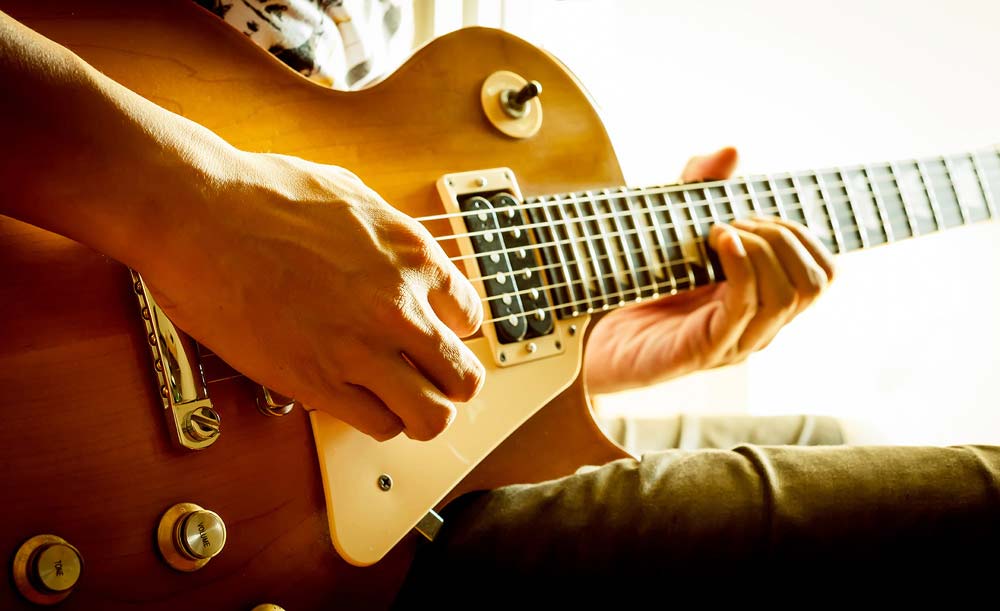 Eric Clapton
Eric Clapton is the only musician to be inducted into the Rock and Roll Hall of Fame three times, going in as a solo artist as well as a member of two iconic bands — the Yardbirds and Cream.

"Slowhand," as he became known because audiences would slowly clap while he repaired broken guitar strings, is a celebrated blues master but is far more known for creating or putting his indelible mark on such works as "Layla" (written by Clapton), "While My Guitar Gently Weeps" (George Harrison), "Sunshine of Your Love" (Cream), as well as many others.

During the height of the power trio era in the 1960s, when three-piece rock groups played heavy, guitar-driven tunes that featured virtuosic solos, Clapton was considered one of the best around.

In the 1990s, after some decline in popularity, he hit a massive chord with audiences with his performance on MTV Unplugged. The historically electric Clapton went all acoustic, and the result was perhaps one of his most iconic works to date.

Besides the MTV Unplugged album, take a listen to Layla and Other Assorted Love Songs, Slowhand, and Cream's Disraeli Gears.
B.B. King
A nickname such as "The King of the Blues" should be all you need to know to understand how important Riley B. King's playing was to the evolution of the guitar in popular music.

Though he went by the more modest B.B., King is widely credited with introducing a unique style that emphasized string bending and vibrato, serving as a vital bridge between the blues and styles such as rock, heavy metal, R&B and even country music.

While his most well-known song is "The Thrill is Gone," King won 15 Grammy Awards, and he and Lucille, the name he gave to whatever guitar he was playing, toured tirelessly until his death in 2015.

Some of King's work to take a listen to include Live at the Regal, Singin' the Blues, and Completely Well.
Are You Inspired by the Guitar Gods?
Whether you have been listening to the music of the guitar heroes on this list for years, or are just learning about them, hearing their iconic guitar licks and solos can be plenty motivation to learn to play yourself.

Taking guitar lessons through The Approachable Music Project can help you not only get started on your journey to playing, but also get you there faster than most places. We're located in Minneapolis and in a very convenient spot serve St. Paul as well. Contact us for more information.