Realistic Practice Goals for Everyday Guitar Students
There is nothing in the world quite like the slight look of shame worn on a student's face who walks into a guitar lesson after barely having practiced all week.

It represents the classic battle between music teacher and student, and it also highlights many of the misconceptions people carry about practice, such as what it says about commitment level, how much is enough, and even how to do it.
Many Types of Students, Many Types of Goals
In a lot of ways, there is a mistaken belief that people have to become a musician to learn guitar. In reality, people need to know very little about music to play guitar, in the same way that people don't have to know very much about culinary techniques to cook.

While it is true that there are people who do take guitar seriously enough to put in thousands of hours of practice with the purpose of becoming the best guitar player around, there are just as many, if not more, who would laugh at the idea of ever calling themselves a musician and be completely satisfied to reach a level of proficiency that allows them to accompany songs passably, write tunes, jam with their friends or play for their kids.

Recognizing how guitar will ultimately fit into students' lives helps learners and teachers alike to set to realistic practice expectations and also create an open communication about how to get from point A to point B successfully.
Article continues past the image.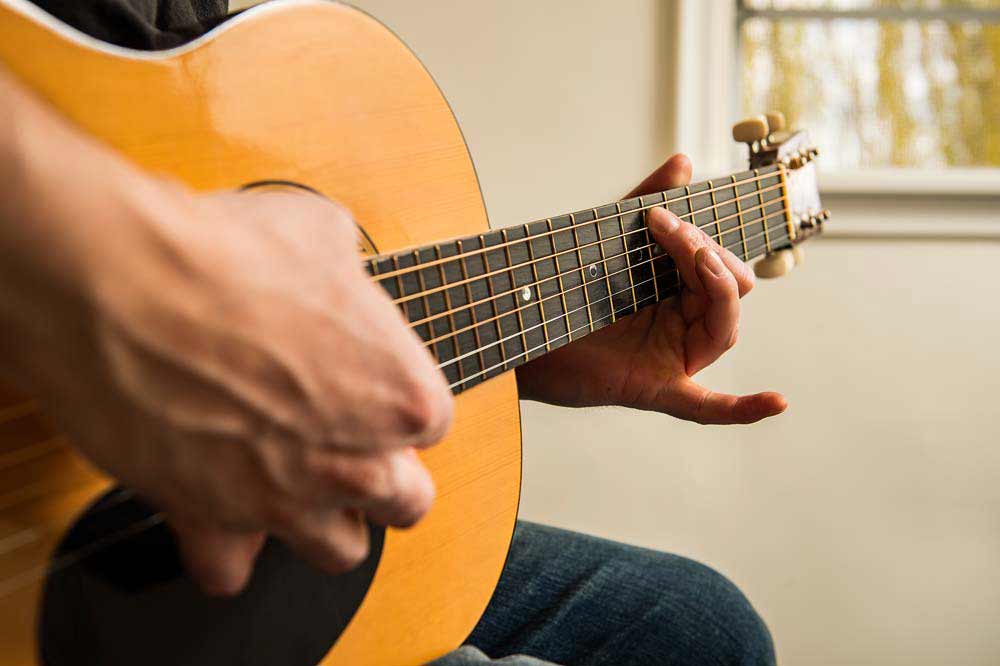 Resetting Practice Expectations for the Everyday Student
People typically have a lot of things competing not only for free time, but energy as well, and as a result, it can be very easy to dismiss a personal interest in learning guitar with the notion that there's just not enough time.

The thing is, when guitar is mostly a hobby, people can learn at whatever pace is comfortable and fun.

Learning how to play enough to sing and play your favorite songs doesn't take much of a commitment at all, and in terms of knowledge, all you really need to know are a few chords and how to change between them, concepts that can be learned in a matter of hours.

Plus, plenty of people see satisfactory progress practicing only around 10 minutes a day, three or four times a week, and become pretty happy with where they stand after only about 20 total hours.
The Efficient, Effective, No-Pressure Practice Session
The best way to get good at anything is to keep trying to do it, and by keeping the skill set focused to only what's essential to the goal, even the shortest amount of practice time can be beneficial.

The trick is to stop watching the clock and just think about the repetitions. Switching from one chord to another for three sets of 10 is much more digestible approach than doing the same task for five whole minutes that never end.

Plus, as soon as you can place chords on the guitar, you can begin to find songs you're interested in learning and try to play them. Messing around with songs serves double duty; it helps you get in the repetitions and motivates you by being fun to do.

You may not that sound good at the beginning, but you'll improve with experience.

A practice session in a real-world setting works well broken up in two halves. In the first half, work on the skills you need to master first by performing the action a set number of times. So if you're having trouble switching to a D chord, switch to it from a different chord 5-10 times or more depending on your motivation to conquer it, and then forget about it and move on to another skill, with the goal of fitting in 2-4 trouble spots.

In the second half, forget about repetitions and just play a song or fiddle with something fun you picked up along the way. You'll actually get pretty good practice just by playing.
Interested in Seeing How Learning Guitar Can Fit into Your Schedule?
Practicing doesn't have to be a chore. For a lot of people, a short amount of practice time a few times a week can be enough to keep them engaged with an instrument that eventually wins them over and gets them playing more often. Contact us today if you are interested taking guitar lessons to learn what skills are the best to learn when you're short on time.