Are Guitar Lessons Worth It?
When you're considering guitar lessons, hands down, the number one reason to hesitate is price. Guitar lessons can be expensive — depending on where you go and how you schedule them, they can cost as much as $100-$150 per month, which is very useful money in most households.

Plus, with all the free online lesson videos and PDF resources out there these days, you might be wondering whether lessons with a private instructor are even worth it at all, which is a valid question that deserves some real discussion.

The TL;DR answer is that in some circumstances, they're definitely worth it, and in others, it might be better to just teach yourself to play guitar.

Here's a quick primer that should shed some light on what to consider before you spend even one dollar on guitar lessons.
The Basic Economics of the Guitar Lessons Industry
If you're like most people who are considering lessons, the first thing you do is look for a guitar teacher, which very quickly leads to the first tough question: with all the options available and pricing all over the map, how do you even decide which teacher to use?

To begin to answer this, let's take a look at how the music lessons industry works at a basic level.

There are two main types of businesses that "sell" guitar lessons: big guitar studios (which include music stores that offer lessons) and solo instructors that typically teach out of their houses (though some will go to your house for an extra travel cost, if you want).

Whether you go with a guitar studio or solo instructor, the current market rate for general guitar lessons in Minneapolis, St. Paul and the greater Twin Cities area is around $30-$40 per half hour, with many studios or instructors offering discounts if you purchase an upfront package or request longer lessons.

It's important to note that any dollar figure over or under market rate doesn't necessarily mean lower or better quality. It's simply the price that studio or instructor feels makes it worth their time, effort and experience.

The main differences between a bigger studio and solo instructor largely has to do with the way they conduct business and usually has nothing to do with quality.

Larger studios have more overhead and handle more students, so they need to set more processes that stabilize how they function financially and operationally. Because of this, at a studio, you're more likely to pay upfront for a month's worth of lessons and have less flexibility when you need to cancel.

You are also more likely to have big selection of time slots available to you because they tend to hire a lot of teachers to cover current and expected demand.

Solo instructors, on the other hand, have far less overhead, so they can be more flexible in how they operate. Many charge lesson by lesson, and don't charge cancellation fees. But, it can be somewhat more difficult to get your ideal time slot because usually, it's just a one-man band operating the business.

As far as quality is concerned, unfortunately, you face the same risks whether you go with a guitar studio or solo instructor. Any musician can start giving lessons if they want, and while you would think the bigger studios would be more inclined to ensure proper quality in teachers, the fact is that they have their own challenges that make that more of an idealistic goal than realistic one.

Consider that any business regardless of industry looks to make revenue that is a standard 45% profit over their costs. This is how that looks for a big guitar lessons studio: The student gets charged $30 (their revenue), the teacher gets $16.50 (their costs) and the studio itself takes $13.50 (its profit).

That's relevant to the quality discussion because making $16.50 to teach a music lesson is far below the rate someone would make without the middle man, and often, teachers go out on their own after getting started with a studio. For studios, this often leads to high employee turnover, the hiring of inexperienced teachers (who are more willing to take the lower pay) and students getting moved around from teacher to teacher.

Of course, some studios handle these challenges better than others, and there are plenty of poor-quality solo instructors out there, too, so, it's important to do as much research as possible upfront. If you can talk to a prospective instructor prior to the first lesson, even better because one thing is clear no matter which way you go: getting it wrong at the beginning is usually the difference between learning to play and not learning to play.
Article continues past the image.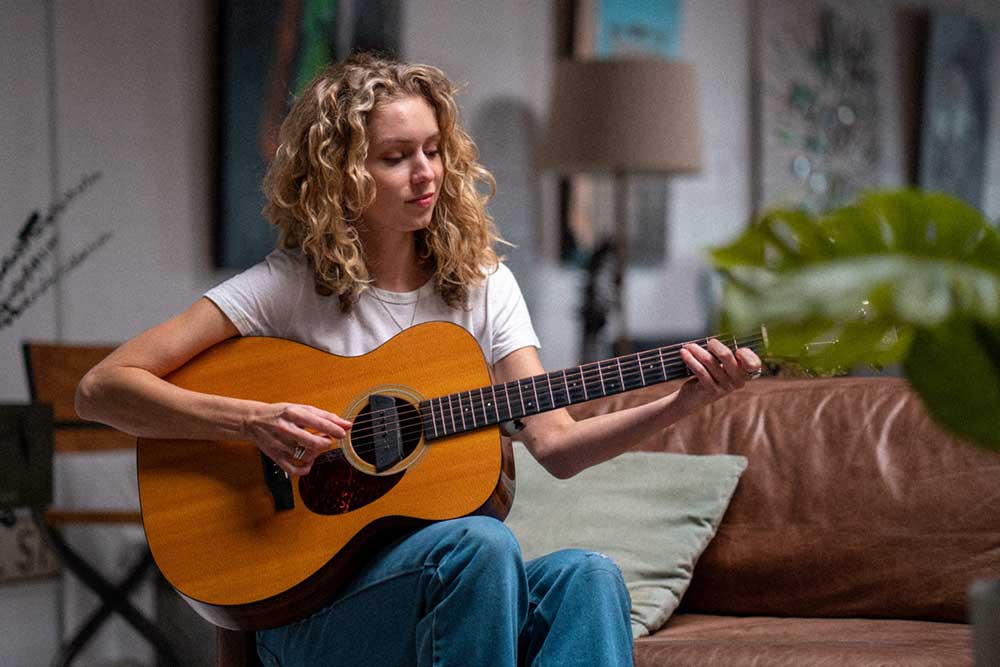 Understand What Factors are Really at Play
Once your eyes are open to how this all works on the instructor side, it's time to consider all the real factors that make or break whether guitar lessons are worth it for your situation.

Let's start with this fact:

If you work with a good teacher once a week indefinitely, love to play and practice regularly, guitar lessons are going to be worth every single penny.

Makes a lot of sense, right? Work with a good teacher, enjoy it and actually practice, and you'll make the most out of your investment. The thing is, though, this is the dream that guitar teachers and studios sell, but for a variety of reasons, the reality is that most students won't experience it this way.

Let's look at it another way:

If you work with an inexperienced (or poor) teacher once a week indefinitely, love to play and practice regularly, guitar lessons are going to fall short of your expectations.

In this scenario, you might be doing all the right things, but if you end up with the wrong teacher — which far too many people do — you probably won't get enough out of your guitar lessons to make it worth it for too long.

Let's do another:

If you work with a good teacher once a week indefinitely, but don't have the commitment to play and practice regularly, guitar lessons are going to be pointless.

This one's the opposite of the last. If you aren't going to do your part, you're simply throwing money down the drain. You don't become a guitar player by taking guitar lessons. You become a guitar player by using a lesson to guide you through the daily work you need to put in by yourself.

Last one:

If you work with a good teacher once a month or so, love to play and practice somewhat practice regularly, guitar lessons are still going to be pretty valuable.

If you're putting in the regular work, having a good teacher to check in with once in a while will help you build confidence in your process.

Really, there are only a few, but very important factors at play here: how good the teacher is, how enjoyable playing is to you and whether or not you'll commit to practice.

At the end of the day, every part of this process, from researching teachers to practicing outside your guitar lessons can — and should — be controlled by the student because realistically, nobody else is going to look out for your money the way you will.
It's Okay to Cherry Pick Lessons
One thing we didn't cover in the basic economics sections is the fact that most music teachers want, and even expect you to sign up for indefinite, weekly lessons. While that option is exactly what some students need, it's a one-size-fits-all approach simply doesn't work for everyone.

You know what fits into your schedule best. A good studio will always be upfront and honest about what they think you need. After all, their expertise is what you're buying. But, there's no reason you shouldn't be accommodated if you only need one lesson to see if your self-learning is on track, or you can only do once-a-month because of your financial situation.

The thing is, guitar lessons will, rightfully, always take a back seat to crazy work schedules, sick kids, Christmas and even Vikings games.

Ultimately, learning guitar is mostly practice anyway, and good guitar lessons are mostly about teaching people how to do that within the context of their busy lives.

For more information about taking guitar lessons in Minneapolis, St. Paul or Twin Cities region, please send us a message.