Guitar to Ukulele in 4 Steps
A few years ago, I noticed that the ukulele was starting to gain popularity, and being mainly a guitar player, I was intrigued because it looks like a little guitar.

So, I did a little research and was really surprised to find out that guitar knowledge easily translates to ukulele. In fact, it's practically a direct transfer.

Plus, getting one is extremely affordable considering that the ukulele is one of the few instruments that allows people to legitimately learn to sing and play the same time.

Nowadays, I find myself going through phases where I play more ukulele than guitar — I mean, while playing the ukulele has a lot of benefits, its uncanny portability allows me to throw it into my backpack with a Daily Ukulele book and take it anywhere I might have spare time to fill.

Here's how I went from guitar to ukulele.
At First, I Thought of it Like a Little Guitar
There are so many similarities between the ukulele and the guitar that applying your guitar knowledge almost instantly allows you to play the ukulele and actually feel like you know what you're doing on it.

To start, anything you can do on the four high strings of the guitar, you can do on the ukulele — it's just tuned to a different key.

Soprano and tenor ukuleles, the most common types, are tuned as though someone placed a capo on the fifth fret of the guitar and only played the four high strings (DGBE).

Baritone ukuleles, on the other hand, are bigger and less common, but they are tuned exactly to the four high strings on a traditionally-tuned guitar.

The only real hindrance when it comes to going from guitar to ukulele is constantly having to transpose the chord shapes to account for that fifth fret guitar capo, which means all the ukulele chords or scale patterns will be named a fifth down from what you're used to on guitar.

For example, a D chord shape on the guitar when played on the ukulele is actually a G chord in sound because D is the 5th note of the G major scale. (In other words, you travel five notes backward to get the correct name).

If you're like me, the transposing thing was annoying enough for me to wonder why I wouldn't just buy a baritone ukulele, but they really are less common and considerably more expensive, too.

Also, a baritone is much deeper in sound than soprano or tenor ukuleles and is close enough to the sound of a guitar that it seems redundant.

Besides, because they're so cheap, taking a flyer on a soprano ukulele was more convenient for me than the inconvenience of having to transpose all the time — the price of my first ukulele (used) was only $10!
Article continues past the image.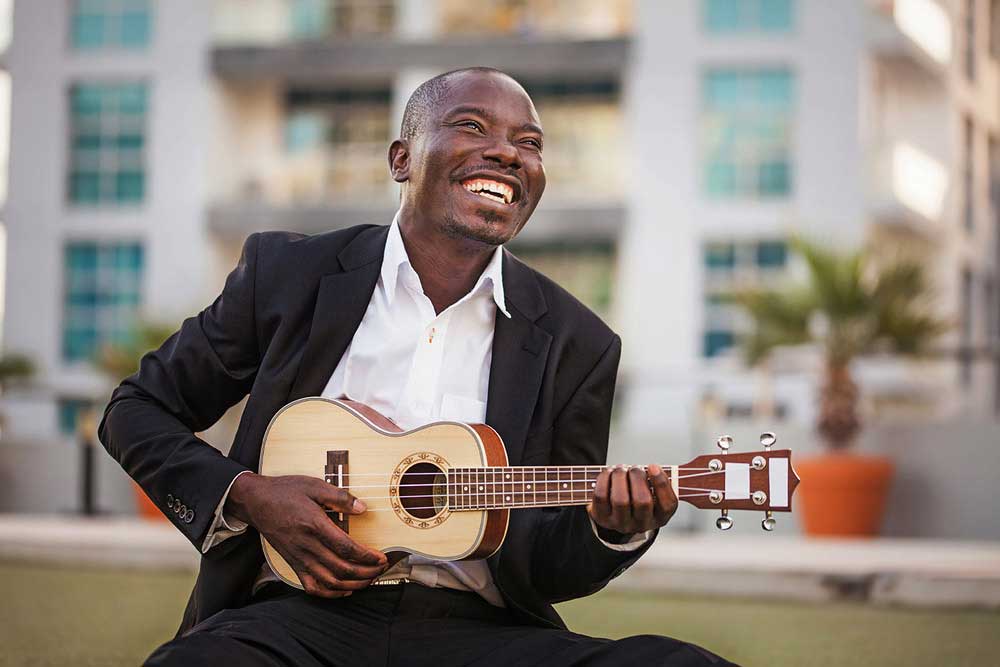 Playing A Lot of Ukulele Helped Me Appreciate Its Uniqueness
The more I play the ukulele, the less I think of it as a little guitar — it's quite beautiful-sounding in its own right.

To me, it sounds somewhat like a harp, and its simplicity and limitations make it interesting in a "crossword puzzle" kind of way.

Naturally, because it's much smaller than a guitar, it has a shorter range of notes available to play, and I like that because it helps me focus more on the task at hand, whether that's playing melody lines, improvising with chord tones or breaking down complex chords to their essential notes.

In essence, without two extra strings to account for, the ukulele allows me to explore using more complicated music theory more easily.
What My Ukulele Playing Looks Like Today
One of the things I love about the ukulele is that there's no ego about it — nobody expects anyone to be a ukulele hero.

If I have extended periods of time with the ukulele, like if I'm camping or something, I venture more into the weeds of chord melody, jazz or blues, but most of the time, I just transpose ukulele songs to the key of C (because that's the easiest key to play in) and just sing tunes.

I've even convinced my wife to learn the four main chords in the key of C — C F Am and G — and once in a while I can get her to play along with me on some songs.

It's funny — because I like singing my favorite songs so much, I still do most of my playing with the basic chords you would learn on the first day of ukulele lessons — and it has kept me entertained for years.
Go From Guitar to Ukulele in 4 Steps
If you've been playing the guitar for a while, and have been thinking about trying out the ukulele, give it a shot! Here are some practical steps you'll need to take to go from guitar to ukulele.

Step 1: First, you're going to need to get yourself a ukulele.
This is an obvious first step, but you might not know exactly where to pick one up. Because there are so many different music stores in the Twin Cities metro area, and so many instruments to choose from, I get questions all the time from students about where to buy guitars, ukuleles, and accessories.

My best advice is to buy used whenever possible. Definitely try to avoid price extremes; you don't want to buy the most or least expensive thing out there — especially when you're brand new to an instrument. As you continue to play, you'll learn more about what brands or accessories that will be worth it to you to spend a little extra on, and you'll have a solid idea about what you won't need to pay top dollar for.

Several stores around Minneapolis and St. Paul have a selection of used instruments in addition to new ones. Of course, Craigslist is always a good option, and the Nextdoor app is a great resource, too; it basically guarantees you won't have to drive too far to pick up your new used uke.

If you're someone who is more of a kinesthetic shopper — you like to look and touch something before you shell out the money — it's best to go into a physical store. There are a ton of local and chain stores around the Twin Cities, but for ukuleles, specifically, check out Groth Music on 81st and Nicollet in Bloomington. They seem to have the best selection of ukuleles, and it's where I always send my beginner ukulele students.

Step 2: Pick up a ukulele chord guide, and learn to strum.
Just like the guitar, the first thing you need to learn on the ukulele are the basic chords. To do that, you'll need a chord guide so you can reference each chord until you've committed it to memory. There are 18 chords you really need to know to play pretty much any song on the ukulele — if you ever want to be a good uke player you have to know them hands down, no excuses.

Start by learning the C, F, G, and Am chords. These ones are the most frequent chords you'll see in songs for the uke. From there, you can learn the rest of the essential chords, which will allow you to play any song you'd want to on the ukulele.

Going from the guitar to ukulele will give you a leg up when you're keeping rhythm as you play, but there are a few differences when strumming on the uke as opposed to the guitar. Make sure you know how to strum before you dive in.

Step 3: Transpose all your favorite songs into the key of C
Okay, you might breeze through the first two steps, and get to this one and think "Nope, nuh-uh, no way — transposing is not for me." Don't let your ukulele dreams die here.

Most hobbyist musicians aren't going to have much or any training in music theory. But while it might seem intimidating, transposing is definitely something that you can learn with the right instructions.

When we use the word "transpose," really all we mean is that we change chords into a different key. To do this, yes, you need to learn some essential music theory concepts, but don't shy away from this. Every decent ukulele player knows how to do this, and you can (and should!) learn it, too.

Look, if you're reading this because you're interested in going from guitar to ukulele, you are probably already up for the challenge of learning something new. What's great is that you already have so much transferable knowledge from your pre-existing guitar skills that you can take the challenge of transposing chords head on.

If you haven't studied any music theory, but you've been a musician for a while, consider this an opportunity to become more skillful in the "science" of music. If you only know the "how" but not the "why" of playing music, you're leaving a pretty big gap in your musical knowledge.

Step 4: Practice!
A lot of your skills will transfer from the guitar to the ukulele, but that does not mean that your proficiency will transfer. You can't assume that the hours you've put in learning the guitar will automatically make you excellent at the ukulele. The uke is its own instrument, and you'll need to put in practice time as if you were learning a brand new instrument, not just a smaller version of one you already know.

The most important thing here is consistency. If you want to be successful at learning how to play the ukulele, decide on a time of day that works for your schedule, and show up everyday. Commit to a length of time that is actually doable — yes, even two minutes! — and spend the majority of your practice time working on skills that need attention.

How do you decide what skills need work? Well, they're probably the things you don't love doing. Maybe you haven't mastered the barre chords, so spend some time during each practice session working just on those chords. Before you know it your dexterity and hand strength will slowly increase, and these chords will be no problem for you anymore.

Here's the thing about practice: your success at the ukulele, or any instrument for that matter, will be exactly proportional to how disciplined you are. So, you need to think about what exactly you want out of playing the uke — do you envision yourself as a professional musician, or are you more of a campfire player? The higher your goals, the bigger your commitment to practice needs to be.

Think about your practice time as a joyful time. Hopefully, that thought isn't a huge mindshift for you because playing music is already something that makes you happy. Practice time is an opportunity; how often does anyone get to tune out all the mundane minutiae of everyday life and just play some music?

Setting aside time during your day to make some music is rewarding in and of itself, regardless of how fast you feel yourself progressing in your skills. If nothing else, a handful of minutes spent playing the uke instead of doom-scrolling Twitter will probably make you a happier person overall, in addition to a better ukulele player.

In a way, the simplicity of the ukulele might be misleading, especially if you've been playing the guitar for a while. Because of the fewer strings and the key change, you'll have to learn a little music theory if you want to really be able to explore all the possibilities of the ukulele. But new challenges are the fun part about learning a new instrument, and being intentional about practicing will ensure you develop all the skills you need to be the player you want to be.
Want to Learn to Go From Guitar to Ukulele?
The ukulele is a little instrument that packs a big punch. Not only does it allow you to accompany yourself on thousands of songs with a relatively low degree of difficulty, but it's pretty cost-effective, and you can even teach yourself to play.

Plus, if you know how to play guitar, you have a solid head start on playing it. Still, working with a good ukulele teacher can help fill in any gaps you may have that could hinder your ability to become a polished player on your own.

Contact us today if you are interested in taking ukulele lessons to learn or get better at playing your favorite songs.