What is a Good Age to Start Guitar Lessons?
It might seem obvious, but one of the best benefits of starting young kids with guitar lessons bears emphasis: it gives them a head start on the hours of repetition needed to become good players.

Figuring out a good age for a chile to start guitar lessons isn't nearly as cut and dried — most of the time, determining a child's readiness comes from assessing maturity, finding the right teacher and having realistic expectations.
Is Your Kid Ready to Listen to a Guitar Teacher?
When it comes down to it, maturity — and not an age cutoff — is the best gauge in determining whether a child is ready to start taking guitar lessons.

The fact is, there are plenty of five and six-year-olds that can handle the responsibility of lessons with poise and initiative and just as many eight and 10-year-olds on the other end of the spectrum.

Furthermore, a case can be made that if a child is mature enough to attend school, then they are probably mature enough to take lessons, and for this reason, it's important to shop around for a teacher that can adjust to a young student's personality and forge a connection.

Most guitar teachers offer a free introductory lesson, and there is no reason why you can't try out a few teachers and let your kid decide which is most inspiring.
Article continues past the image.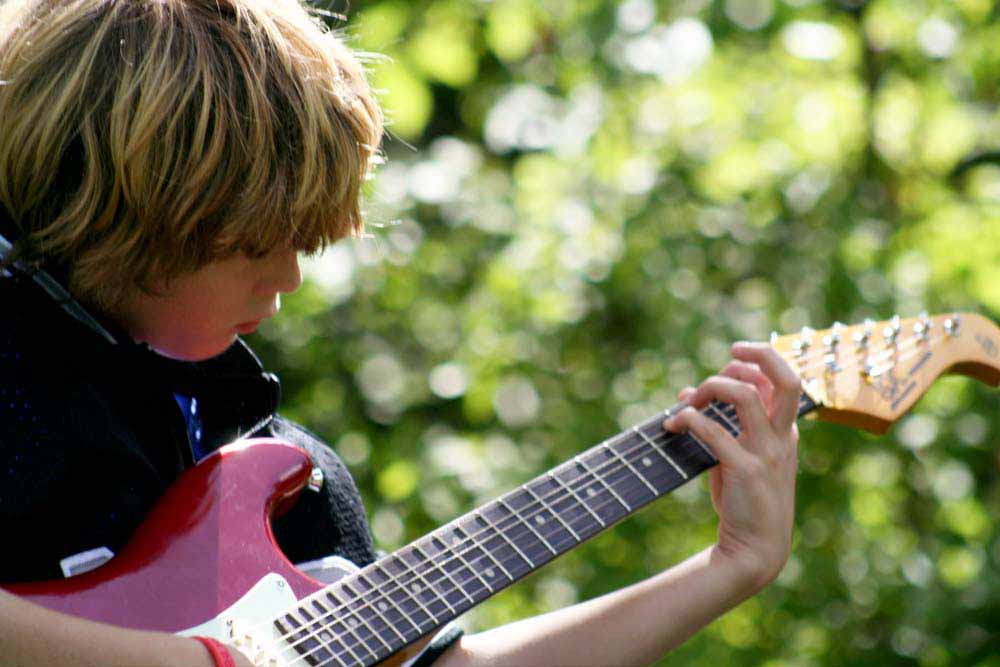 Set Goals But Have Reasonable Expectations
It's completely natural for parents to secretly hope their child becomes the next guitar hero, and with the right instruction, a lot of practice and the right breaks, it could even be possible.

Ironically though, it's the parents that have realistic expectations that best help their kids stay interested enough to reach those heights by encouraging them through the bad notes, the songs that have no beat and the cats howling at the moon.

Besides, despite what anyone thinks about how much intellect, talent or creativity impacts playing ability, the number one factor that ultimately cultivates a decent guitar player, let alone a virtuoso, is experience playing the instrument, and that just takes time.
One Size Does Not Fit All
Too often, parents make children use a full-sized guitar their introductory lesson, watch as they struggle to handle the instrument, and then decide the kid is too young.

At best, this completely avoidable miscalculation costs the student a chance at getting an assessment that doesn't factor them having to learn something brand new at the same time as juggling something big, unwieldy, and probably expensive.

Nowadays, parents can easily set their children up for success by purchasing a kids-sized guitar or even going with a ukulele, which is an extremely manageable and cost-effective solution that requires the same exact motor skills and finger positions that young beginners learn on guitar.

Plus, ukuleles are so easy to play, kids can more quickly develop a certain proficiency at playing songs, making practice that much more fun.
Don't Be Afraid to Take Matters Into Your Own Hands
Even if you decide your child isn't quite ready for guitar lessons, there is still one more creative step you can take to give your child an edge: learn the basics yourself, and then teach your kid.

While this notion might sound crazy, consider that learning guitar isn't as complicated as it's often made out to be, and parents can easily gain enough working knowledge of the instrument to help get kids started.

In reality, to have the ability to play hundreds of songs on guitar, including many kids songs, there are only 4 things a person really has to know:
How to read a guitar chord chart
How to play the basic guitar chords
How to strum on a count of 4
How to change chords according to the 4-count
While the path of least resistance might be to pay for a couple crash course lessons to achieve this knowledge, there are also plenty of videos and PDF music resources that you can use to teach yourself.

Either way, one of the best things about going this route is that you'll have an activity to share with your child for a lifetime.
Interested in Starting Your Child With Guitar Lessons?
If you are wondering whether your child might be ready for guitar lessons, the best path is simply to give lessons a try. Usually, you'll know within the first lesson whether or not your kid can handle them. We'll offer a practical assessment as to how we can help your child learn guitar. Sometimes, that means offering alternatives that may serve you and your child's best interests better, but either way, we're a gateway to more information. Contact us today to learn more.