Used Acoustic Guitars Buying Guide and Tips
The acoustic guitar market is just like the automobile market. Every single year, manufacturers make new versions of the same guitar, and every year, models from previous years keep getting slashed until one year, they become vintage and start to regain value. You can even take that analogy down to the adage that a guitar loses half its value once you take it off the lot. And it's true, because you can't collect that 45% markup at resale.

Of course, not every guitar is going to follow this path — a vintage Ford Pinto will always have little value because it's junk, but Ford Mustangs always have good resale value because it's a high-quality machine. Guitars, naturally, work the same way. Buy a cheap, low value guitar new, and it will never really gain any value in the long run.

Something else to consider is what year a used guitar was originally made. The guitar manufacturing industry is constantly evolving, and some brands evolve negatively, while others move into the market or even improve.

For the most part, I keep all of this stuff in mind when I look for and buy used acoustic guitars. At the end of the day, a well-researched guitar that satisfies what you are looking for in one is going to be a good purchase.

In no particular order, here are my recommendations for guitars to look out for on the used market.
Westerly Guild Guitars
Guild guitars came onto the market in the 1950s with its eyes set on becoming an alternative to Gibson guitars, which many people consider one of the premier guitar manufacturers.

Because they outgrew their original location in the Tri-State area due to high demand for their product, the makers of Guild started manufacturing in Westerly, Rhode Island in the 60s, where they were highly esteemed for the quality of their guitars for their entire stay there, which ended in 2001.

Commonly referred to as Westerly Guilds, these guitars represent some of the best value on the used market because they still have that vintage Guild quality, but you can find many under $1,000.

Plus, they're American-made guitars, which goes a long way in the vintage guitar world. Especially the dreadnaught guitars, Westerly Guilds have a deep sound that definitely reminds people of Gibson guitars, so if you're eyeing a Gibson, but don't want to spend $2,000, a Westerly Guild is about as close as you can get at about half the price, and in same some cases, even lower.

One last thing to note is that you want a Guild actually built at the Westerly factory between the 1960s and early 2000s — not the new vintage throwbacks they sell. Those are completely different guitars and chances are will never be worth more than what you pay for them originally.

Also, keep in mind that the later the Westerly Guild, most likely, the more cost-effective they'll be.
Article continues past the image.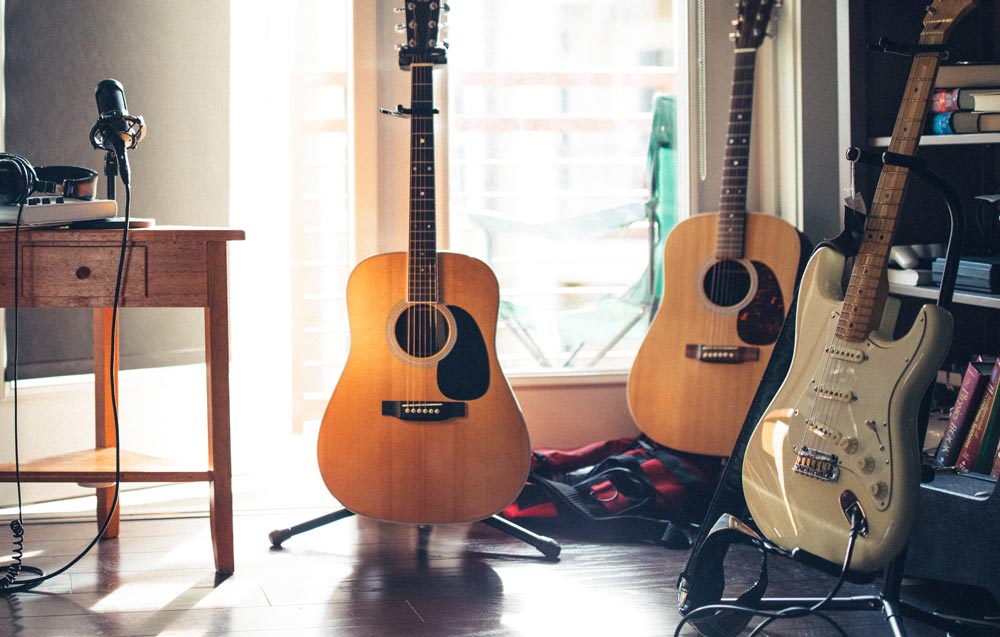 Gibson LG Guitars
While Guild guitars represent a solid alternative to Gibson guitars, man, there's really nothing like the real thing. The problem with the real thing though, is that most Gibson acoustics are usually really expensive.

But the Gibson LG series of the 60s and 70s are somewhat of an exception. The LG guitars are not the traditional dreadnaught style (meaning big) that most people think of when they picture Gibson acoustics.

In fact, they were actually a line of guitars designed for students, so at the time, they weren't considered one of Gibson's high-quality models. But the reality, is, they actually were pretty high quality because back then, Gibson didn't really make a low quality-guitar.

It's kind of like when Lebron James has a bad game but still scores 25 points — maybe it wasn't up to the best Gibson standards, but it sure still beat the competition.

There are three types of LG guitars: LG-0, LG-1 and LG-2. The LG-0 was the most cost-effective version and the LG-2 was considered the best of the bunch. All three, though, sound beautiful and really uphold that rich sound that one associates with Gibson guitars.

Plus, all three models were made at the Kalamazoo, Michigan factory as opposed to the Bozeman, Montana factory, which will only add to their resale value. The vintage guitar world loves any models that come from the original factory of the manufacturer.

Plenty of Gibson LG acoustic guitars can be found for under $1,000, and realistically, might be some of the most underrated guitars on the used market. If you can get your hands on one, you will probably have that statement guitar you've always wanted without breaking the bank.
An Early 2000s Seagull S6 and other Godin Subsidiary Models
Seagull Guitars are the most well-known subsidiary under the umbrella of Godin Guitars, which makes their instruments in a town called La Patrie, Canada, sitting just a couple hours west of Montreal.

Other subsidiaries are Art & Luthrie, Simon Patrick and Norman, all quality guitar brands that you can easily pick up on the used market for under $300. In fact, I would recommend purchasing one of those brands used as opposed to any brand-new guitar in that price range.

Godin subsidiary models are made with sustainable woods that simply sound great.

But the older Seagull S6 is the gem here. A perfect storm of circumstances has made this guitar perhaps the best buy on the used market, and not only can you buy this guitar for under $1,000, you could probably even get it for under $300.

See, the fact is, Godin makes really nice guitars at really affordable prices. Overall, the Seagull S6 is probably its best seller, and it's easy to see why. It's got a big, rich sound, but its brightness also cuts through, making it balanced, and really, just a joy to play.

So, why can you get one used for as low as $200 dollars? Unfortunately, I think it has everything to do with the name. Godin products simply don't have the same brand name power as Martin, Gibson, Fender or all the rest, so that makes their resale values lag.

But if you are interested in getting a really nice guitar for dirt cheap, then a Seagull S6 made prior to 2005 is a clear winner. Realistically, if that guitar had the name, "Martin" printed on the headstock, it would sell for $1,500 easily.

It's too bad, but at some point, the Seagull brand changed how they made the Seagull S6, and while it still sounds decent, it's over $500 and not really the same guitar. With so many old Seagull S6 guitars out there, realistically, it just makes more sense to be these ones used. They're very undervalued guitars.
If You're Just Buying a Beater Guitar
Sometimes, you just need a guitar that can go to the cabin with you or that the kids can strum without giving you anxiety. When it comes to guitars of this ilk, you want cheap, but you also don't want trash, and this is a perfect reason to buy used.

The simple fact is the cheapest brand-new model at a guitar store is going to leave a lot to be desired, and you can be sure to find something in a comparable price point at a much better price on the used market, especially when you consider all the people who bought an guitar with the hopes of learning how to play, and then quit their guitar lessons after the first few.

This is where those Godin subsidiary models are gold — especially Art & Luthrie — as they're really inexpensive and just better quality than any Rogue, Mitchell or Oscar Schmidt guitars that you'll find at your local guitar store.

Another great brand in for this situation is Yamaha. For some reason, I feel like I've never played a Yamaha at any price point that got in my way of playing.

In fact, just about any product they make seems to give me that same feeling as well.
The Brand I'm Careful With
Martin Guitars used to be my favorite acoustic guitar brand, and I still dream of owning a 60s-70s model in perfect condition. But somewhere in the late 90s or early 2000s, they really started changing the way they made a lot of their low-end and mid-range models, switching over from back and sides made out of wood to back and sides made out of a paper-related product called high-pressure laminate.

Now, some of these guitars that were still made in the Nazereth, Pennsylvania factory still have a pretty good "Martin" sound, but around 2005, they shifted over to outsourcing low- and mid-range models and the move to make their guitars more cheaply resonates in the lack of quality in these models.

Worse, since the name "Martin" is a premier brand name in the guitar industry, they pretty much replaced all their models under $1,000 with outsourced versions, and people still buy them.

For me, any Martin prior to 1990 I would treat it like it is, a premier vintage guitar that is going to be pricey.

After that, I'm only looking at models made in the Nazareth factory and not paying more than $600 for anything that has high-pressure laminate, if I'm even buying it at all.

Personally, I wouldn't buy any of outsourced Martins. They don't sound like "Martins," yet you're paying the price for one. There are simply better guitars options out there.
Brands I'm Decidedly Indifferent On...
The great thing for the guitar lover is that there are tons of different brands to try. Naturally, I haven't played a lot of them, but I will say this, if some of these brands interested me, I would seek them out. Here are some that are common on the market, but for some reason or another, I don't feel like I need to have them in my collection at this point:
Fender (acoustics only; though if I saw a vintage one that was a good price, I would bite)
Ibanez (better for electric)
Ovation (the plastic-like, round back is not my style)
Epiphone (vintage: rather have a Gibson; new: rather have a Yamaha)
Taylor (carbon copy comments as Martin, but for me, rather have a vintage Martin than vintage Taylor)
Get Some Guitar Repair Done for Even Better Deals
One really overlooked route to getting your dream guitar is to take a step past simply buying a used acoustic guitar and buying a used one that needs a bit of work.

While using a guitar repair shop might seem scary, the fact is that the people who work on, fix and make guitars — luthiers — are usually really good at what they do, and chances are, if you find an old, beat up, vintage guitar with a great brand name, you can get it for pretty cheap and then get it fixed.

I did this with a Gibson LG-0 not too long ago. I bought it on Craigslist in Mendota Heights, Minnesota for $500 dollars and then put about $300 of work into it through Blackbird's Music in Minneapolis. The result is a really nice vintage guitar under $1,000.

I tend to follow this model a lot with violins and other instruments — buy a decent brand cheap and get it repaired. Now, the thing with guitar repair is that you want the total value of money you put in to be less than or at worst, equal to the resale value.

So, in the case of my LG-0, the range of those guitars can be anywhere from around $800 for the worst of the bunch to $1,500 for the really nice ones, so I broke even now, but also expect the price of it to rise.

The point is, anything can be fixed, but sometimes it's simply not worth it. It is, however, an option to keep in mind. Some guitar repair really doesn't cost that much.
Looking to Buy a Used Acoustic Guitar?
If you have questions about purchasing guitars or are interested in taking guitar lessons in the Minneapolis and St. Paul area, please send us a message.