Tips for Buying an Acoustic Guitar
Buying new acoustic guitars has always been one of my favorite aspects about playing guitar. I enjoy everything about the process, from the checking out the local guitar stores all the way to opening the case in my house for the first time and welcoming another member to the family.

Still, the time between the decision to buy and actually making a purchase can be wrought with tough choices, and for people who are buying their first instruments in anticipation of taking guitar lessons or even those who have played a while and are wondering what the difference is between certain brands, it's always helpful to get plenty of different perspectives when considering all your choices.
My General Outlook on Guitars
For me, playability is the single most important factor when it comes to deciding between acoustics. Realistically, the basic guitar chords should be really easy to manuever through, and even more, the feel of the guitar solos I try on it should make me want to never take the instrument out of my hands.

In fact, with almost every guitar I've ever bought, I knew within the first few minutes it was in my hands that it was the one I was going to buy, even if I still did my due diligence and tried out other instruments.

As far as sound is concerned, the higher the cost of the guitar, the pickier I am about the sound.

Ultimately, I choose guitars that have the right balance between feel, price and sound depending on the purpose for which I'm purchasing it.

When it comes to price points, it's important to realize that everybody has their own figure in mind about how much to spend, and that can depend on a variety of factors.

Guitar players can be a competitive bunch, and it's easy to get caught up in how much yours costs, especially if you have an $80 no-name acoustic and are playing with someone who has a $2,000 Gibson.

The thing is, the cost of your guitar doesn't matter. Practice does. A good guitar player can make the worst guitars sound great.
Article continues past the image.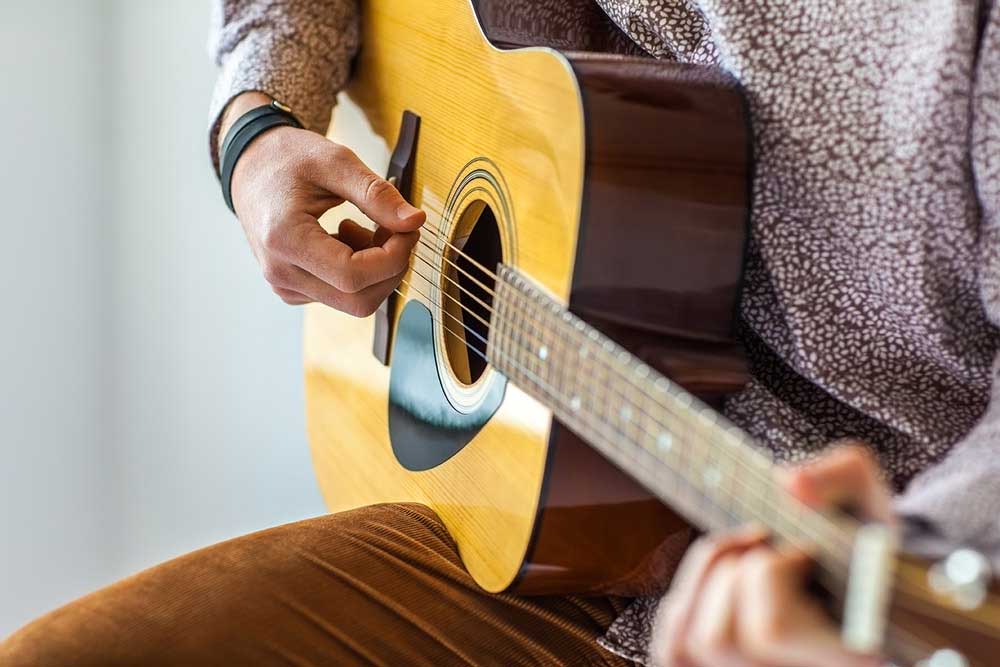 How Commercialization Makes It Easy to Learn Guitar...
Over the last few years, the guitar business, like many industries across America, has matured into a huge commercial success, and the last time I went guitar hunting, I was surprised at how much had changed when it came to price points.

If you are in the market for a cheap or your first acoustic ($80-$300), say for guitar lessons or the campfire, you're in luck. Where there used to be relatively few low-cost options — even in the big stores — now there are an endless supply of possibilities.

In my opinion, there's no reason to overspend at this price point unless you want to spend extra on a style or color finish; they're all about the same in terms of quality and sound.

Still, as a rule of thumb with any purchase where everything is about equal, I never buy the cheapest thing I see nor the most expensive, so if you get out around $150-$200, you did just fine.
...But Killed the Mid-Range Price Point
Things start to get really tricky once you decide to upgrade from your first guitar. In my opinion, the quality of guitars in the $300-$1,000 price range has really suffered in recent years.

While this range may seem extremely wide, consider that the big manufacturers have started to outsource almost every guitar they stamp their name on, save the high-end models.

At the end of the day, the big companies are making a cheaper product and selling it to the consumer at the same cost, which may work fine for people buying appliances, but doesn't translate to instruments.

For context, as recently as 2005, you could buy a low-end, American-made Martin at around $500, and you could rely on it to "sound like a Martin."

Today, the most affordable brand new American-made Martin is over $1,000, with most — if not all — of the Martins underneath that cost being made in Mexico.

And you know what? They absolutely do not sound the same.

This doesn't mean other countries don't make good guitars. It just means that since Martin Guitars shifted its focus more toward its bottom line, the quality isn't the same as it used to be.

The takeaway is that you may really like the sound of an $800 Mexican Martin, and that's totally acceptable, but is it really that different than that $450 Epiphone you're also looking at? In my opinion, not $350 different.
The Used Market Features Tons of Value
When it comes to the higher price points, I think they sort themselves out. Someone spending $2,000 on a brand-new Gibson either knows nothing about guitars or everything about guitars, and at that price, guitar manufacturers, especially the heavy hitters, still make pretty good instruments.

But for me, there are tons of used acoustic guitars out in the world that are in good shape, and I would encourage people who are looking to spend $300+ to see what's out there. You can often find older and cheaper versions of the same models that manufacturers sell brand new, and you never know when you're going to hit a gold mine.

Plus, nothing teaches you more about buying guitars than researching guitars. Really digging into the used market often takes stepping out of the brick and mortar stores and into some avenues that might make you feel a bit uncomfortable at first. But, I can assure you: when you find that gem for a great price, it's well worth the extra effort and patience.

Here's some insight in how to stretch that dollar into a sweet new acoustic.
Where to Buy a Used Acoustic Guitar
For the most part, there are four main ways people buy used guitars: retail stores that sell used gear, people that you are acquainted with personally who happen to be selling their gear, non-local online listings and local Craigslist listings,. All have their advantages and disadvantages. Let's look at each option. Retail stores that sell used gear The most obvious place to find a new used acoustic is any guitar store that sells used gear. The advantage here is that they are unquestionably trustworthy. For one thing, you know can safely walk into a store and buy something without the feeling in the back of your mind that you will get robbed, or worse.

For another, you most likely can return the instrument within a reasonable timeframe if you are not happy with it.

That peace of mind comes at a price though. Retailors have to make a profit off of anything they sell, usually 45% over their cost to obtain it. So, if they bought a guitar from someone for $100, you can expect to pay $145.

It's not necessarily a bad thing to pay that markup for the convenience of using a middleman — we do that all the time with almost any product we buy. But if your risk tolerance is a little higher, there are other avenues where you might get the same instrument more cheaply.

People in your personal circle that are selling their gear Another common way people buy used guitars is from people they know, or at a least are acquainted with. Guitar players always seem to be buying new guitars and selling ones they've had and probably don't use often enough to justify keeping them. Purchasing a used acoustic guitar from someone you know sometimes comes at a good discount, and more often than not, there's a certain amount of trustworthiness that comes with the transaction as well — no one wants to lose a friend over a lemon guitar.

The only real con about purchasing a used guitar from people in your circle is that your choices are extremely limited.

Non-local online listings In the last few years, it's become increasingly popular for people to use websites such as reverb.com or even Guitar Center's used portal to buy instruments solely on the listing description and then have it sent to their door. I personally am a bit leery on the idea of purchasing a guitar sight unseen, but many people are completely okay with the risks.

For me, I think the people who sell used gear on these types of platforms are trustworthy enough to be giving honest descriptions about their guitars. So, the only thing that turns me off about these options is that I may simply not like the guitar's feel or sound after I play it, and since guitars aren't cheap, it's just not necessarily a risk I'm ready to take.

Local Craigslist Listings Craigslist might sound like an outdated avenue for most things, but for musicians, it's still the go to place to sell used gear, especially in bigger cities like Minneapolis and St. Paul. To a certain extent, Facebook Marketplace is gaining ground, but it's all still the same idea: in this scenario, you see a classified listing in your area, make arrangements to meet with the seller, check out the instrument and either pay cash or pass.

I use Craigslist a lot, which probably tells you way too much about how many used instruments I've actually purchased. The great thing about Craigslist is that you are buying direct from the seller, which makes things cheaper (lack of the 45% markup), and you can negotiate price from safely behind the anonymity of email or text. Plus, with Craigslist, you have many more options than you might have at just one store. (Though really, the people who run that one store probably buy used inventory from Craigslist themselves.)

Of course, the caveats with Craigslist are that some people are simply not comfortable meeting random people off the internet to finalize a deal. I have to admit myself that enough media attention has been given to Craigslist deals gone wrong that even I get momentary anxiety during the process.

But for me, it's always felt silly once I meet the person I had been dealing with and got down to business. The other couple quirks about Craigslist are that you deal in cash, and really don't have a lot of time with the instrument before you purchase it. But if you do your research, check serial numbers and know exactly what you're buying you really don't need to worry too much. Plus, just because you drove out there to check out the instrument, doesn't mean you've committed to buying it. You can always walk away. I have before and would again.
How Do I Know I'm Not Buying a Fake?
Especially when you're really searching to buy an expensive instrument, you want to make sure you're getting the real deal, so it's natural to be worried about whether or not that $1,500 Martin is really a Martin. But the thing is, if you're buying an instrument under $2,000 you most likely aren't getting a fake. It simply wouldn't be worth it for a counterfeit to go through all the pain and suffering to really do one right.

Besides, if you're getting close to that price point or above, you should get comfortable with doing research with serial numbers. In all cases, research the make and model of the guitar and check what the comps are selling for on on reverb.com or even ebay.com.

Realistically, I would be more worried about knowing the history of the instrument itself, especially, what repairs it has had, if any. Of course, when you meet the seller, take as much time as you need to play the instrument — if it feels good and looks good, it probably is good.

Of course, when you do want to spend an inordinate amount of money on an acoustic guitar, it's probably simpler to head over to a vintage shop. They'll have a solid collection of expensive guitars to choose from and you won't have to worry about anything other than picking the right guitar.
Want More Tips About Playing Guitar?
If you're looking to improve at guitar or if you're picking it up for the first time, taking lessons through Approachable Music can help you make strides more quickly than just about any other place around. You can also teach yourself to play guitar. Check out our PDF guides for more info — we try to make understanding complex concepts as straightforward as possible, so you can focus on becoming a polished guitar player without having to worry about whether you're learning the right stuff.