Multi-Instrumentalist Tips and How to Become One
While I've been a guitar player for over 20 years, I've always had a fascination with other instruments, and over the last few years, I started branching out and learning others.

Today, I can play around 10 different ones to varying degrees of skill level. Some instruments, I have a lot of confidence with, while others, I feel more self-conscious about.

There are even a few, such as the drums, that I am downright shameless about — I would never (or will never) consider myself a drummer, but not only is it really useful to be able to do some basic things behind the set, it's also really fun to hit those skins.

Now, a big part of my motivation toward becoming a multi-instrumentalist has really been mere curiosity, but to some degree, there's also been some necessity behind it.

See, I play with other people quite a bit, and in almost every situation, there just seems to be a lot of guitar players out there and not enough of the other instruments that make playing out and jamming more fun.

Think about it...what sounds like a better experience, a jam with four guitar players or a jam with two guitars, a bass and the drums? You figure that that's why bands are usually constructed in the latter format.

So, I tend to enjoy the role of filling in the gaps with instruments that no one else will or can play.

This works for me because I get to gain experience playing a variety of instruments in real-world situations, which eventually helps me progress with them.

Besides, I already have a lot of experience playing guitar with bands or in jam sessions, often times, there are other guitar players in the group who simply don't get as many chances as I do to play in those situations.

They might as well get an opportunity to have their fun, as far as I'm concerned. This attitude about it is actually still good for me because the more others have fun playing in a group setting, the more they'll want to do it, and I can think of very few other things I would rather spend my time doing.

Overall, learning new instruments — whether you know one already or not — takes a lot of patience and perseverance, but to me, the experience of connecting with other people through music makes every minute of the work I put into it being a decent multi-instrumentalist worth it.

The operative word here, though, is "work." One thing that shouldn't be overstated is that becoming a good multi-instrumentalist doesn't happen overnight and is wrought with frustrations and challenges.

Here are some tips for becoming one, as well as some lessons I've learned along my journey.
Take the Time to Get Good at One Instrument
Without question, I don't think that I could be halfway decent at a bunch of instruments if I wasn't already pretty good at one.

My first, and probably, my best instrument is the guitar, and with almost every other instrument I've learned, I started with trying to translate my guitar knowledge to the new instrument as much as possible.

See, the thing about being successful as a multi-instrumentalist is that you want to have a solid footing with your overall musicianship, which takes years of focus on playing one instrument.

If you think about it, getting good at any instrument requires a ton of practice, but if from the beginning, you're trying to spread out those repetitions among more than one instrument, then you're realistically not getting good at anything.

Plus, the thing about getting good at one instrument is that it teaches you how to think like a musician in general, and well, another way to think about a multi-instrumentalist is that they're general musicians.

Another major reason why it's beneficial to learn one instrument first, is that it gives you a starting point for which instruments to learn next.

For me, I started to get into songwriting about a year into playing guitar, so naturally, I wanted to learn how to sing and play guitar at the same time.

Now, most people don't really associate singing and playing guitar at the same time with being a multi-instrumentalist, but the voice is definitely another instrument, and I probably wouldn't have taken that next step had my guitar playing not lead me to it naturally.

After doing songwriting, I decided to take up the harmonica to make the instrumental breaks in my songs more interesting — again, another natural step.

For years, I wasn't really that good at any of the three instruments I played, but I kept my focus on improving my guitar playing, and it eventually made me want to improve my singing, so I took some voice lessons.

I never took any harmonica lessons, but when you teach yourself guitar in the committed way that I did, and work with a vocal coach, a lot of those music principles I was learning were easily applied to the harp.

While I spent years only singing and playing guitar and harmonica, one day, I simply became interested in the ukulele purely because I had heard that you can go from guitar to ukulele fairly easily.

Of course, once I jumped from one stringed instrument to another, I kept going. The bass guitar is essentially just the four low strings of a regular electric or acoustic guitar. The mandolin has those same four strings except they're flipped upside down. The violin is the same as the mandolin except there are no frets and you use a bow.

At the end of the day, for me, learning how to get good at guitar was the key for even getting started with five other instruments — the voice, the harmonica, the bass, the mandolin and the violin.
Article continues past the image.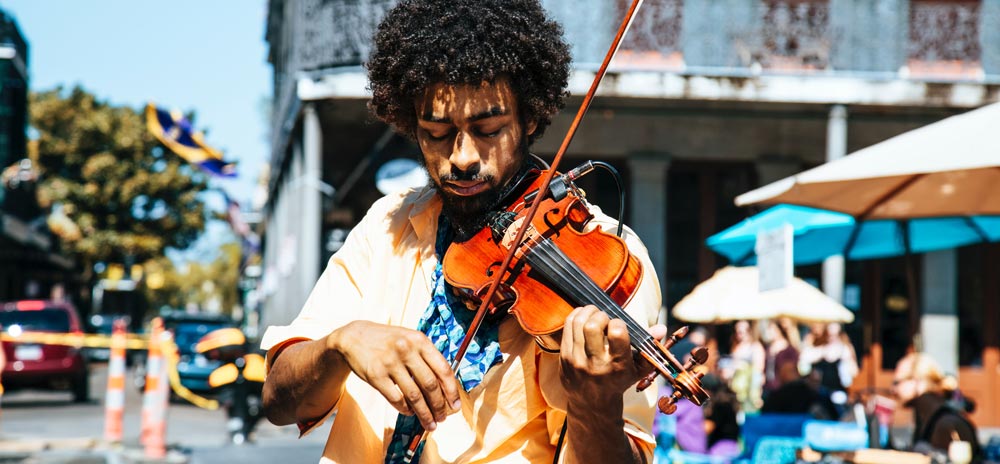 Accept the Fact that You Can't Be Great at Everything
While learning how to play stringed instruments outside of the guitar, like the ukulele and the bass, made sense to me, the minute I decided to learn how to play the piano, I had a lot of trouble. Why did I decide to learn the piano? Mostly because I started to become a more serious musician, and at least having working knowledge of it is practically a requirement for serious musicians. Plus, it is such a beautiful instrument.

Now, in all transparency, I naively thought that all the musicianship I had built up from so much time playing the guitar would make learning the piano a breeze, and I found out soon enough that it was a completely different set of technical skills. But rather than quit, I committed to learning how to play the piano, and even took some beginner piano lessons along the way. After about two years of practicing about an hour a day, I learned that sure enough, a lot of my guitar knowledge did translate to the piano, but while I was a much-improved piano player, I was still so far off from where I wanted to be that I had to rethink what my goals with piano could realistically be.

See, looking back at it now, it all makes complete sense — really good piano players spend their whole musical lives playing piano, and there I was trying to catch up after only a couple years.

Of course, I wasn't going to be up to the standard of excellence that I had set out to achieve.

So, once I accepted the fact that I couldn't be great at piano without fully committing to it the way I had originally done for guitar — not really possible in my situation — I had to shift my mindset.

Now, I simply play passable piano that works in most real-world situations. I can play piano chords decently enough and can even improvise a useful piano solo. I will never be able to play a perfect Beethoven piece, but I did have some fun learning a couple Chopin pieces that would probably make a piano teacher cringe.

Accepting the fact that I can't be good at every instrument I pick up has done wonders for my playing because it's simply taken the pressure off.

It's left me the freedom to fake through a lot of musical situations and only be good at maybe a couple instruments, passable at a couple more and downright mediocre at a few more.

But here's thing, in the situations when I play the instruments that I don't consider myself very good at, as long as I keep things simple, nobody really notices — usually, even the other musicians I'm playing with, and almost never the audience, the most important critic of all.
Set Black and White Goals
Whenever you undertake any project, the importance of setting goals is often understated. Goals are not and should not be abstract. They should be attainable, at least in theory, as well as measurable.

Consider that a goal such as "I want to be a musician" is abstract. It's not specific enough — to what degree do you want to be a musician? Do you want to do it for a hobby or make money? See, there is an endless amount of ways to arguably reach that goal, but there's not really a point where you can definitively say you've achieved it.

Now saying, "I want to be a musician that makes all my money from music" is something different. You can measure your progress simply by the amount of dollars coming in.

When I pick up any new instrument, I usually have two immediate goals and one long term goal.

The first immediate goal is to figure out what works on that instrument for the accompaniment portion of a song, meaning, what will I do while someone is singing the verses or choruses.

On instruments such as guitar, piano or ukulele, that means learning the chords and applying some type of rhythm to them.

For other instruments, it can be a little different, but the principle remains the same: I have to play something during the accompaniment section. What is it? The second immediate goal I have is to get comfortable with the tools for taking a solo.

This usually means figuring out how scales are played on the instrument, and then practicing moving through them against song recordings or even chord progressions I make from an online chord generator.

Once I figure out what to do over the accompaniment and solo sections, I move on to the long-term goal, which is simple: keep improving those accompaniment and solo skills.

See, gaining the ability to handle those two musical situations is most important because they're the most common conditions people play under in real-world circumstances, but getting good at them is a long game — it simply takes time and experience.
Pay for Lessons Strategically
I think there's a fundamental misunderstanding about music lessons in that people think that they are really missing something if they don't take them to learn an instrument. It's simply not true.

Music is largely a rote skill that requires repetition, and once you gain the knowledge of what you need to practice, if you're committed to working hard for years — not months — you actually can become quite good at your instrument without ever taking music lessons.

Now, while I firmly believe you can teach yourself to play music, and mostly have myself, I do occasionally pay for lessons as I see fit.

For example, when I started to learn to play the violin, I wanted someone to give me a rundown of how to use the bow because it was such a foreign concept to me. I've also paid for violin lessons a couple other times, mostly on-off lessons just to get a professional's opinion on my progress, so I could be sure I was on the right track.

When I was playing a lot of piano, I had been playing for a couple years before I took about a month's worth of lessons, and it's helped drive any piano playing I do to this day.

But here's the thing you should know about music lessons, there's only so much a teacher teaches you before they start coaching you, and while the difference may seem subtle, they are entirely different things.

See, a teacher shares knowledge you don't have, while a coach cultivates your skill set according to their philosophy. If you're committed to teaching yourself your instrument, perhaps all you need is the knowledge, and once you have it, you may not necessarily need to stick around for the coaching.

For me, I prefer to get my knowledge and then go apply it according to what my goals are. Then, if I need to, I might pay for another lesson or two — maybe not even with the same teacher — to get constructive criticism and correction.

The point is that you can still teach yourself to play an instrument and take a lesson here or there to fill in the blanks or gain confidence.

Music teachers are usually people with a lot of experience, and picking their brains is extremely valuable. In fact, I prefer to think of a music teacher as a music learning consultant rather it being a student-teacher relationship — they're only giving me the tools to become good, it's up to me to put in the work.
The Hardest Part of Learning a New Instrument is Getting Started
As someone who has learned to play about 10 instruments, as well as different versions of the same instrument, the one thing that has been the same with all of them is how hard it has been to find information about how to get started.

For me, I want to know the skills that are going to takeme the furthest fastest, so it simplifies my music practice. If you're looking to learn a new instrument and want to get playing in real-world situations quickly, contact us for a strategic music lesson that help get you where you want to be.